Quit complaining, do something about it!
With so much energy, focus and dialogue circling rising wine prices, declining dollar value and the hedge fund baby boom, I can't help but ask myself why? Why are wine geeks wasting their energies on poorly focused venting, berating and name calling when they can actually heal themselves of said situation!?
The simple solution comes from addressing the laws of supply and demand. If that which you desire has become too subjectively expensive, then it is time to go west young man, find a new desirable in a price range that is more suitable. I am aware of the difficulties involved w/ long time buyers of particular wines, such as the 'wine of the year syndrome' that has just recently infected Clos des Papes supporters, but separation anxiety is not a terminal illness my friends. In fact, the easiest cure for such an ailment can be found in, you guessed it, a new 'best friend wine,' and there are plenty to choose from! If you lead, others will follow (in a vinous Utopia, regardless of their particular income, they'll agree to the old adage that 'enough is enough'). Supply and demand laws are consumer driven, so look in the mirror w/ said frustration instead of belligerently flogging the greedy producers. Consumer, heal thyself.
This 'a + b' rationale is all well and good, but I'd challenge the protesting mob one step further. In addition to just saying no, how about saying yes to something else? By something else, why not take a walk on the wild side and stray from your comfort zone (read: too expensive, prestigious region) into an entirely new dimension? You know there's an expansive, competitive and exciting wine world out there with provocative, hedonistic and enthralling varietals from just about every country and nearly every continent. If you fear this leap of faith is merely a step down from 'the best,' I dare you to remove your wine snob hat and replace it w/ the wine geek hat that you claim to love and adore so much! If you're an old dog from the old world and can only accept more gradual remedies to your case of separation anxiety, I'd like to remind you that there are plenty of
great and undervalued
treasures that exist w/in that very same world you currently dwell in, you just need to dig a little bit more to find the bone. Isn't the thrill of the chase and exhilaration of discovery what attracted you to wine's holy grail in the first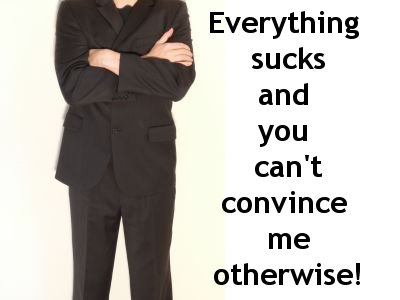 place?
What I mean by all this is that New Zealand and South America do not have to be your panacea for the expensive wine fever that you've become inflicted with (two countries that are generally perceived as sexy prescriptions to this particular disease). Gulp, France probably has more value now (w/ the strong EURO) than back when our dollar could show up the peso in a pissing contest. Global warming has paved the way for Montrachet-esque Chablis to be fashioned at mostly Chablis-like price tags. The heat has caught on in the Loire as well, allowing Maverick producers to turn the once weedy and herbal Cab Francs of Chinon into'03 and '05 powerhouses that rival some of their Right Bank cohorts in terms of richness, sinew and most importantly, value. Mendoza too long a flight from the Old World? Well the backroads to Cahors are just a hop, skip and a jump away! Even Italy has its share of ship jumpers as Barolo prices soar, but remember the fad of Super Tuscans? That has come and gone, but what's left is the same great quality without the lofty price tag.
I could laundry list all day, but Dr. Brad can not give away all his prescribing habits for fear of becoming more of a lecturer than a healer. I can only suggest where to steer delicately, as you'll be the one behind the wheel making the turns. You've come this far along your journey, and the more stubbornly you fight, the less pleasure the grape will give you. Put on a blindfold to wine labels and let your taste buds open your eyes to what truly world class wine can taste like (at whatever price point you subjectively deem as 'comfortable'). Remember the mantra, wine geek, not wine snob.
As a footnote, I owe you a bit of clarification as to what the spawned such rampant, grotesquely optimistic idealism from this post. Well, it was a bottle of wine of course, but no ordinary bottle at that. It was what is widely considered 'the best' bottle of pure Mourvedre on the planet. Now Mourvedre is hardly Cabernet Sauvignon, and for that matter, it isn't even Grenache, but a trip to it's origins of Bandol can reveal the intangible beauties that lie w/in what most Rhone snobs would consider to be a 'hearty blending grape.' I put my blindfold on and tasted what makes me love wine so much. As infant as that sounds, its price may take you all back to that same moment. There were no strings (nor hundred dollar bills) attached. These were my impressions:
Domaine Tempier, Bandol Cuvee La Migoua 2001
I think every Rhone fan owes it to themselves to explore the Mourvedre heartland in Bandol, and what better producer to test drive than the gold standard? The second I stuck my nose in the glass, the one word I could think of was archetype, as just about any textbook definition of the varietal alludes to these pure Mourvedre pleasures that I'd always imagined but hardly ever experienced. The holy grail of this varietal seemed to come out and speak to me w/ each scent, and every next sip would unlock the mystery a touch further. Opaque, brooding sensations of cardamom, black licori
ce, grilled steak, fig, blackberry liqueur and pepper give way to a sinister, spicy and savory palate experience that could only come from one grape, Mr. Mourvedre. He that likes his face in the sun and feet in the water, and in Bandol finds sanctuary. Pure, gorgeous Mourvedre complexities flex their sinew along the ride, but the density of the wine is channeled by such a brisk, driven persona that composes all its power w/ ease. I can still remember the lingering graphite note of this wine in an almost haunting fashion. With all this talk of price in an industry as expansive as wine, I can't help but feel at ease when I can experience one of wine's zeniths at such a reasonable fare, 95+ points.
P.S. Although it is in a different 'peer group,' I liked it slightly better than Guigal's La Turque 1997 that I had tasted the previous day. We all know there is a an ever so
slightly
difference in price (as well as cache) between the two, but let me tell you something, the Guigal wasn't the inspiration of this post ;)