2005 Bordeaux, UGC Impressions
Phelan Segur, St. Estephe
It's been said quite often that the first wine a taster puts to his lips can be the sacrificial one, especially when it is the first of 50 some odd wines that he's about to taste. Well, this apothegm holds true w/ Phelan Segur, which was excruciatingly taut, austere and as hard as nails. Subtle notes of tobacco leaf and spicy toast managed to poke through a mass of tannin, but this young claret was not yielding one ounce of pleasure amidst its structure. A toughie to evaluate, but we all know the limitations of mass trade-tastings (sans decanting), 79 points.
Durfort Vivens, Margaux
Margaux was such an easy appellation to fall in love with in 2005, and this young Durfort Vivens makes as strong a case as any. A juicy, but firm mouthful of plum and cassis notes cascade through the palate to a lengthy, fine finish. This was just the type of surprise I had hoped to stumble on, 89 points.
Rauzan Segla, Margaux
Rauzan Segla is one of the best wines in the spotlighted appellation of 2005, Margaux. While famed Chateau Margaux will garner most of the attention and accolade, Rauzan Segla is an absolutely brilliant in this vintage! One of the most mouth-coating, viscous wines poured at UGC, flirting w/ exotic notions of Asian spices, black raspberry reduction, black currant and incense notes. Extracted w/ sinew, but admirably cut, with the precision of a luxury car's hair-pin turn on the Autobahn. Take a bow Mr. Kolasa, you've produced a beauty, 97+ points.
Ferriere, Margaux
While quite tight, there was still a lovely window of singed wood, blackberry sauce and a dollop of dark fruit that were expressed by this '05 Ferriere. A well constructed and sound wine that lacks the persistence of the top Margaux performers, but is not short on charm and grace, 87+ points.
Kirwan, Margaux
I've become quite fond of this estate as a vertical I attended last year demonstrated that this is clearly a claret w/ a progressive disposition that maintains all the integrity that comes along w/ the appellation. Their '05 rendition is a pretty, floral kissed wine w/ a gorgeous bouquet of lilac, sweet perfume, BBQ spices and crushed berries. The palate has a seamless pulse and offers up a finish that's as pure as any Margaux could wish to be, 93+ points.
Lascombes, Margaux
This is a wine that has received quite a bit of early controversy for its level of oak and lack of harmony, but much like the '04 vintage, I am a Lascombes believer yet again in '05. This is undoubtedly a serious, endowed and generously proportioned effort that exudes a powerful disposition that I immediately fell for. A primal torrent of dark olive paste, saturating black currant, spice box and road tar steam through the palate w/ authority. This savory juice is built like a brick and should unfold gorgeously in the cellar, 94+ points.
Gazin, Pomerol
The profile of this Chateau has grown on me, and perhaps tasting the '85 was the catalyst for my growing affinity. While a bit chewy and almost burly, the '05 is already demonstrating some beautiful complexity in the nose w/ its damson, olive, chocolate covered berries and cassis notes emerging w/ a bit of aeration. Grippy and full in the mouth, with quite a bit of length to burn and some serious longevity ahead, 91+ points.
Clinet, Pomerol
Gosh Clinet is a heartbreaker already! So attractive and sensually polished (especially in relation to the more rugged template offered up by the Gazin), w/ layers of decadent fruit, freshly cut roses and creamy milk chocolate scintillating through the palate like layers of liquid cashmere. A total knockout for Clinet, as '05 seemed to give the Chateau just what they needed to cook up a sexy kitten of a wine, 94+ points.
Beauregard, Pomerol
I was very unimpressed w/ this showing from Beauregard, but will certainly give it the benefit of the doubt as I sensed some fine character underneath its closed, withdrawn personality. Even so, I can't imagine anything profound emerging from this wine, but wouldn't have any outstanding expectations from this snap shot acquaintance, 85+ points.
La Conseillante, Pomerol
La Conseillante was flat out one of the most spectacular 2005's of the tasting. Such a wondrous bouquet of sweet fruit, lilac meadow, whiskey barrel and high class pipe tobacco greeted my nose w/ astonishment as I couldn't have imagined any Bordeaux this young could show this well. The palate is flawlessly textured and while it certainly has ample richness, it is so ethereal and knee-bucklingly plush that it leaves you w/ an impression of majesty instead of severity. La Conseillante made a glorious 2005 that has to be tasted to be believed, 98 points.
Petit Village, Pomerol
One of the most transparent wines in terms of aroma, with a bristling meadow, damp moss and fresh raspberry laced nose that I found immediately promising. Unfortunately, the wine is one dimensional once it hits the tongue, with a straight forward, somewhat lean and short personality. It has some potential to put on weight in the cellar, but I wouldn't push my luck, 85 points.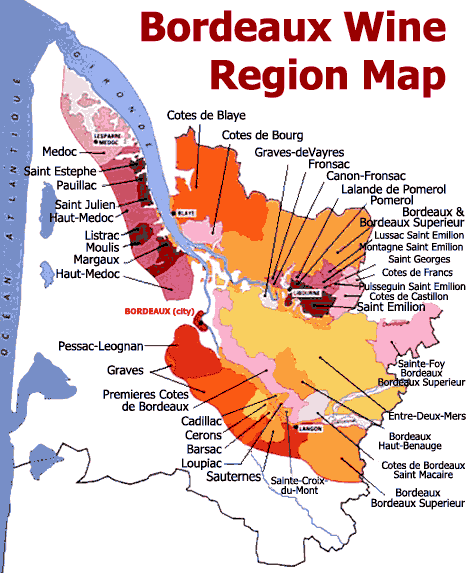 La Tour Figeac, St. Emilion
Wow how good is St. Emilion in '05? This example of La Tour Figeac suggests that a bounty of treasure lies in the Right Bank and I, for one, was happy to play pirate during my exploration of Bordeaux's great Merlot based clarets. A sexy, smoky temptress of a wine, laced w/ crushed blueberries, vanilla bean, mocha and blackberry liqueur that slowly unfolds its layers into a web of sheer pleasure. Long, lavish and sweetly kissed by some suave tannins; this is a wine I couldn't help but adore, 93 points.
Larcis Ducasse, St. Emilion
While no shortage of hype, demand and pricing escalation has put this starlet out of the reach of most connoisseurs, those that pounced early are in for a massively opulent wine! Extremely withdrawn to the point of being closed aromatically, Larcis completely erupts in lush and authoritative waves once gracing the palate; cramming layers of pure red cherry, black raspberry, dark fruit reduction sauce, spice and underbrush notes to a walloping finish. Suavely textured and explosively constituted, this St. Emilion is loaded w/ tremendous potential, 96 points.
Pavie Macquin, St. Emilion
I've tasted just about all the heavy hitters in Bordeaux at this stage since 2002, and even w/ all the intensity and exuberance of 2003, I don't recall tasting such an outrageously ripe St. Emilion (including Pavie)! Super, super-ripe notions of fig, raspberry ganache, dark cherry liqueur, cocoa and Christmas spices pump out of this robustly fashioned Right Banker (perhaps appealing to my Grenache sensibilities as much as anything) under a bed of chalky, powdery tannins. The 'other Pavie' is loaded for sure, but oh so difficult to approach at such an infant stage, 97+ points.
Larmande, St. Emilion
The 2005 should rival the 2001 in terms of quality. A wonderful nose for Larmande; full of violet, coffee, blue and purple fruits that are delicious, succulent and round in the palate, from start to finish. This was one of the most approachable and well delineated wines that I had the pleasure to taste at UGC, 91 points.
Clos Fourtet, St. Emilion
An excellent expression from Clos Fourtet, as it seems poised to give the 2003 a run for her money. Ripe, concentrated and jam packed w/ cassis, espresso roast, boysenberry and exotic purple fruits that titillate the senses. In all its effusiveness, the palate reels in the flavors to a fine focus that showcases finesse, texture and length, 94+ points.
Canon, St. Emilion
Between Rauzan Segla and Canon, it seems John Kolasa could do no wrong w/ his estates in 2005. I have very little experience w/ this Chateau, but thoroughly enjoyed the ride this '05 gave me! Such pretty poetry was found in the palate of Canon, which hinted at raspberry, briar, mocha and such subtle glimpses of power that never overwhelmed the elegance of the wine. The harmony of Canon is uncompromisingly balanced and simply wonderful to experience, 92+ points.
Figeac, St. Emilion
While always aromatically interesting, it takes a very warm vintage to make a compelling Figeac, and '05 is just that. Extremely pleasant in its leafy, floral and almost Burgundian sense of earthiness on the nose, Figeac was actually quite tight on the palate, as the Cabernet seemed to clamp down a bit. In spite of its backwardness, there is a pure core of deep fruit waiting to emerge that may just need some bottle aging to emerge. This estate's 2000 was a brilliant wine, so '05 has its work cut out for it but may just have the stuffing to give it a challenge, 92+ points.
Dassault, St. Emilion
This is a wonderfully lifted, crisp wine w/ aromas of rose petals, red cherries, cassis and spices reminiscent of a Pinot Noir (or a La Fleur Petrus). While a bit elegant on the nose and attack, the finish is firmly grounded in some ripe Nebbiolo-like tannins, but strike
s an interesting balance between the two worlds. Dassault is a winner in 2005, 91 points.
Beau-Sejour Becot, St. Emilion
A producer that I am not terribly familiar with, but they produced a wine that screams of formidability in this vintage. Subtle and flirty at first, w/ a nose of exotic blue and purple fruits and hints of intensity reveal a structured, closed, promising palate. There is a textbook sense of tension and balance about the wine which gave me an easy confidence in recommending it, 93 points.
Angelus, St. Emilion
A recent vertical tasting of this Chateau demonstrated just how fabulous the peaks of Angelus' performance can be in vintages like 89, 90, 98 and 00. I remember leaving that tasting w/ an impression that they would never make a wine that could rival the 00 in terms of richness, depth and sheer decadence. The 2005 just pulverized my theory in as leveling a fashion as any! Angelus is a staggeringly mammoth wine in 2005 that nearly overwhelms the senses with its volcanic layers of fruit, tenacity of attack and sheer hedonism. This is a pure femme fatale of a wine that is the dry red wine's answer to drinking Sauternes w/ a bucket of foie gras. Wines like this remind me that it perfection is possible when unbridled pleasure is harnessed into equilibrium, 100 points.
Pape Clement, Pessac Leognan
A pure elixir of young Pape, with extremely rounded edges and the poise of a Super Bowl quarterback. Deep, concentrated dark fruit is found in the midpalate, with tiers of truffle and smoky graphite notes stretching out on the impressive finish. I headed off to a Pape Clement vertical literally an hour after this tasting and it really put this '05 in perspective. While the results of the 'progressive era' for Pape for somewhat mixed, I think this effort will easily contend w/ the finest wines made at the Chateau under Bernard Magrez, 95 points.
Canon La Gaffeliere, St. Emilion
The second I walked up to the flamboyant Stefan Von Neipperg, draped in a bright yellow scarf and distinguished attire, he called me Brad Pitt. Not sure if it was the hair or the name tag, but I liked him immediately. Charm aside, he made a brilliant 2005 that should rival his outstanding 2000. Full of decadent flavors like mocha, chocolate covered wild berries and pure cassis, this hedonistic thrill ride was a pedal to the medal performance around every turn. Effusive, long and intense, this is a wine that any Bordeaux pleasure seeker must experience at least once, 95+ points.
Clerc Milon, Pauillac
A very structured, but well proportioned Pauillac that weaves in notes of barrel smoke, tar and graphite to the succulent, red fruit based core. Clerc is balanced to a T and as aristocratic as any Pauillac could aspire to be. Another great candidate for the cellar, 91 points.
Pontet Canet, Pauillac
I've enjoyed just about every 21st century Pontet Canet, with the 2003 perhaps stealing my heart more so than any other, but the 2005 makes me think twice about my previous favorite. This is as chiseled a wine as any, as if it were cut from a Cabernet based stone on Mount Olympus. Defined, but polished flavors of cedar, black currant and spice cascade along a sinewy backbone that is flat out admirable. While the '03 may be a touch more exotically loaded w/ fruit, this 2005 may please palates that value traditional structure over sensuality, 94+ points.
Haut Bages Liberal, Pauillac
A heady and ambitious young Pauillac, with no shortage of dark plum, tarry cassis and scorched underbrush characteristics that ride along a chewy mid-palate w/ plenty of grip. Should soften up nicely in the cellar and may prove to be outstanding, 89+ points.
Beychevelle, St. Julien
A classy St. Julien that tends to get overlooked due to its more illustrious neighbors, but each time I taste a great vintage from this Chateau I am reminded why I'm a fool to not drink more of it. Classic dusty cedar, high class cigar smoke, leather and heart plum notes emerge from this taut, tannic, but quintessentially elegant young Beychevelle. While it's certainly a bit fragmented and not quite as graceful as you'd hope for it to be, all the ingredients are there for some beautiful development, 92 points.
Lagrange, St. Julien
The perennial 'value Chateau of St. Julien' has crept up in price a bit, but w/ the hike in tariff, there's some exceptional quality to be found. Perhaps the finest 21st century Lagrange, almost flamboyantly earthy, as notions of wild flowers, sweet tobacco, roasted chestnuts, loam and chocolaty black currants scintillate my senses from just about every angle. This wine's young complexity is astounding to me, as is its symmetry, length and purity. 2005 is another winner from Lagrange, just a flat out wonderful wine, 94 points.
Leoville Poyferre, St. Julien
I'll always be a bit letdown by Poyferre, and it isn't necessarily fair to the Chateau for me to feel that way. While their '04 and '05 are outstanding wines, ever since I tasted the other-worldly 2003, I just can't help but compare all their subsequent wines to that almost unachievable gold standard. Hints of mushroom, pencil lead and deep blackberry liqueur are found in this chewy, rich and well constructed '05 that is priced at a nearly prohibitive level for it's outstanding, but not exemplary quality (the '04 is definitely the better deal, and I scored them both the same), 93 points.
Langoa Barton, St. Julien
I sample
d this twice, and the first bottle demonstrated an almost gushing exuberance, while the second was much restrained and tightly knit. There is something special about this vintage for Langoa, as a potpourri of super-ripe fruit awaits patient consumers. The more effusive bottle showed violet, black raspberries, mocha and pure crème de cassis in a bright, impeccably balanced package. I have a great feeling about this vintage for Langoa, 94 points.
Leoville Barton, St. Julien
After a superficially pleasing 2004, this gets my vote for the most frighteningly backward, introverted wine of the tasting (I did not taste Calon Segur, which usually takes the cake in that category). Monstrous structure, only whispering at dusty cassis, graphite, forest floor and iron notes as the tension in this wine makes it almost a foreboding tasting experience. It is way too disjointed, clumsy and rigid for me to get any bead on this wine other than it has the substance to age for a century. This Chateau has a great track record for coming into harmony w/ bottle age, but I can't be optimistic from this brief tasting acquaintance to make any calls….I need to spend more time analyzing, decanting and appreciating this particular performance.
Branaire Ducru, St. Julien
Well well, another tremendous effort from Branaire as this vintage will give the tremendous 2003 a run for its money. A lush, vivid and uncompromisingly endowed wine that is layered with copious dark fruits, blackberry ganache, smoke and a level ripeness that is amped up to mythic levels. Such pleasures are found from 21st century Branaire Ducru wines that I honestly feel like I'm splitting hairs to pick a favorite, 95+ points.
Cantemerle, Macau
Unfortunately Cantemerle, a very steady and consistent producer, had the unfortunate luck of following the bombardiers from St. Julien in my tasting! A fine, medium bodied and austere claret, with a youthful toughness to its dried herb, underbrush and currant flavors that will make this wine much more charming after age ten (like most Bordeaux used to be, right?), 86+ points.