The Old and the New of the Pessac Leognan, Haut Bailly vs. Pape Clement
A group of New Yorkers chose to take a fairly comprehensive look at two key producers in the Graves region of Bordeaux, Haut Bailly and Pape Clement, showcasing vintages that span through 1978 to 2005. Pape Clement was a notorious underperformer up until the acquisition was made by Bordeaux giant Bernard Magrez (whom utilizes world renowned consultant, Michel Rolland, for every single one of his projects) in the late '90s, which drastically changed the quality and profile of wines made at the chateau. On the other hand, Haut Bailly has been a relatively steadfast, traditional producer of the region that we believed would provide an interesting counterpoint to the more progressive Pape.
This tasting took place at the Upper West Side's Compass Restaurant, and we were blessed to have Haut Bailly's manager Veronique Sanders and owner Robert Wilmers join us. Their presence provided us w/ a veritable 'winery tour' through Haut Bailly as we tasted each vintage. I was blessed to sit 'en face du Veronique' but unfortunately, the walls of Jericho (a rather large, protruding beam that bisected the table in the Compass private room) kept me from communicating much w/ Robert. Veronique has the elegance of a ballerina and is as good a sport as any to endure the wretched, vile company of crudely drunken New York men.
While I did pan her 2002 a little more vocally than I should have, I couldn't help but be taken a back by the typicity, finesse and cunning charms that Haut Bailly offered throughout the years. Preconceived notions of mine dictated that there would be a marked transformation from the 80's era Pape Clement to the late 90's versions, and that notion was indeed correct. The other notions I had, specifically that modern Pape Clement would steal the show (at least for my palate), were as off the mark as a B-12 and lidocaine shot from Brian McNamee. Hope you enjoy my impressions.
1978 Haut Bailly
One of those mature clarets that truly provided a beguiling experience as it evolves like a chameleon w/ each sniff, swirl and sip. Hints of orange peel and citrus zest are followed by touches of savory notes that weave in and out like a slalom skier. The palate is still quite substantive, providing notions of hearty plum, leather and slight touches of green mint to keep things fascinating as well as satisfying, 86 points.
1978 Pape Clement
At first, my Rhone sensibilities were intrigued by what I perceived to be brett, alongside some notions of charcoal, Indian spice and game. Alas, she faded fast and had a dilute, lack of focus that made us question the provenance of this bottle (or the soundness of the cork), N/A.
1988 Pape Clement
Remember the Parker note on the '65 Mouton? Well, unfortunately this brought to mind some notions that inspired that vision (at least it did, initially). Mildly offensive scents evoked fresh sewage and rotten garbage, but thankfully, there was something delectable underneath worth waiting for (the stank, along w/ my hatred for this wine, thankfully blew off w/ aeration). The Indian Jones in me apparently drank from the right cup in the Temple of Doom, as iron, loam, truffles and fresh blackberries greeted my palate w/ delight. The texture was a bit chewy and thoroughly primal, but there was enough rustic charm in this 20 year old claret to make me realize that good things come to those who wait, 85 points.
1988 Haut Bailly
This 88 was the most precise and focused wine yet, as it provided one of those mystical moments where we caught this wine at the right place and time. Veronique had mentioned that her previous experience w/ the '88 was less than complementary, stating that previous tastings revealed a wine of one dimension, narrow focus and a harder, charm-less personality. She was pleasantly surprised to find that this bottle expressed such finesse, equilibrium and allure. Not a showstopper, but one of those mature clarets that brings a pleasant and easy pleasure to a meal, much like several better wines of this vintage (along w/ the somewhat forgotten 85s). I can still remember that 'easy satisfaction' as if it just happened, 89 points.
1989 Haut Bailly
If you are searching for a last minute birthday present to bestow upon Jay Miller, look no further my friends. I've never seen him giddier, or more content than when he stuck his nose into Mr. 89. I had scribbled down that this was 'what older Bordeaux is all about,' and if Ambrosia had a name, it might was well take this one. Notions of crushed rose petals, bitter chocolate, crisp cassis, dark currant and lead pencil shavings speckle their way down the palate in such beautiful harmony, thanks to crunchy acidity & sublime balance. This is a wine that was supremely fashioned from head to toe, and again, not a monster but certainly a winner, 92 points.
*With regards to the acidity and cut of this wine, Veronique added that a cooler fermentation was implemented in th
e cellars in order to tame the intensity of the fruit. A great example of how ripe fruit still requires a deft touch to achieve balance and complexity. Kudos!
1989 Pape Clement
A formidable showing, especially after the brilliant Haut Bailly made an encore presentation no easy task. A sweet perfume is typified by loamy notes of roasted coffee, cassis, dark fruits and a beam of pure minerality set the stage for this top notch vintage of Pape. The palate has lovely texture and sound depth, but fell just a hair short of the penetration showcased by the Haut Bailly, 91 points.
1990 Haut Bailly
Wow, here is where the men are separated from the boys! A brooding wine that was packed and stacked to the gills with rich, dense cassis, dark chocolate, bay leaf and smoke tones that have a sense of seriousness that set itself apart from the former peers. Weightier in the mouth w/ a thick, viscous texture that was powerful but still showed the definition of a middle weight boxer. Next to the 2005, this was the most constituted and endowed Haut Bailly that we tasted, 94 points.
1990 Pape Clement
A very good showing when you consider Graves typicity, but somewhat underwhelming when the power of the vintage is taken into consideration. The scents of pipe tobacco, smoky cedar, earth and blackberry are all there, but I found this effort to lack the depth, length and dimension of the Haut Bailly in the same vintage, 89 points.
*1998 is where the dividing line w/ Pape Clement began (post acquisition by Bernard Magrez and consultation via Rolland). I believe this was also the time in the tasting that we began to discuss evolutionary potential of today's wines picked sur maturite & it prompted Veronique to reminisce over the '78 we had previously tasted. She feels the 78 is a wine that will never be replicated again because of today's enological practices. She was clear to state that she is proud of the more modern Haut Bailly, as it is a riper wine of concentration and character, but she feels a bit of a void when discussing the 78 as it had a elegance and understated subtlety that she doesn't feel the chateau will ever achieve again. I don't recall the vintage, but she had tried to convince Robert Parker that one of her wines, while lacking power, still had plenty of allure and grace. He didn't agree. I can't comment on the wine as I hadn't tasted it and don't recall the vintage, but it was interesting to hear how tenacious she was in 'proving her wine' to Bob.
1998 Pape Clement
Well, Ben was waiting for licorice, and the 98 brought the licorice train roaring down the tracks! A softer, plumper wine that was obviously lower in acidity, with richer flavors of melted licorice, black currant and tobacco leaf that took center stage. The wine was gorgeously textured, but still compact and seemed to shorten up a bit on the finish, leaving me wanting a bit more. I'd surmise that a bit more cellaring could help her stretch out a bit, 93 points.
1998 Haut Bailly
The 98 was a riper, smokier version of the chateau but still screamed Haut Bailly in character. Notions of charcoal, violet, blueberry and blackberry emit from the glass in an attractive, pleasurable fashion. While it is not loaded on the palate, there is adequate stuffing and richness to aid in another decade plus of positive evolution, 92 points.
2000 Haut Bailly
This is a denser, more structured version of the 1998 and was only an infant in terms of development. Rich and extracted elements slowly unfold to reveal smoky cassis, cigar ash, lilac and singed toast elements that are still youthful and powerfully channeled. The palate is laced in sinew and is not yet ready to explode, but is sure to impress down the road, 93 points.
2000 Pape Clement
This was my disappointment of the evening as my expectations for this wine fizzled away as I tasted it. This is currently a two dimensional wine, full of plump, jammy and sappy textured fruits that are undelineated, unevolved and quick to disappear on the finish. The best way to describe the current character of this wine is pleasantly superficial, but hardly profound. The likely rationale for the performance of the 2000 Pape is that it's struggling through a weird evolutionary phase, caught between long hibernation and slow evolution. I will be an interested spectator as it progresses and hope it can re-emerge w/ authority, 91+ points?
2001 Haut Bailly
This was a pop 'n pour, so observations attempted to take that into consideration. Another fine '01, in the same league as the Malescot St. Exupery (enjoyed last week) of that vintage in terms of quality. Scents of roasted coffee, licorice, lilac and crushed fruits make their appearance in this medium bodied, charming 2001. Not the most dazzling or remarkable Haut Bailly, but a very good introduction to what the chateau is capable of, 87+ points.
2001 Pape Clement
Atonement for the 2000's performance came in the shape of the 2001 Pape Clement, an outstanding and sexy concoction that rivaled the '90 Haut Bailly for wine of the evening. Notions of toasty cassis, creosote, melted licorice and cigar ash explode from the glass in a generous, accessible and heart throbbing fashion. The effusive nature of the wine is kept honest by a rock solid structure and a texture that is to die for. The 2001 Pape Clement was just what the doctor ordered, 94 points.
2002 Haut Bailly
Yikes; the reason I was so vocally harsh on this wine is because it shocked me how paltry a performance it was in relation to its much more competent peers. While plenty of 2002's are surprisingly giving pleasure today, this is not one of them. This Haut Bailly showed austere, rigid and angular, with a structure that easily dominated its lean, inconsequential fruit. Drying tannins engulf the finish of this wine and leave me hoping there will eventually be something worth liking about this 2002, 75 points.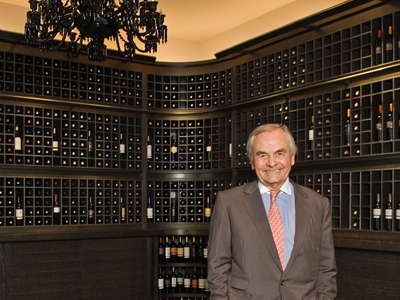 2004 Pape Clement
Who planted Grenache in the Graves?! Talk about a weird showing for a wine that I was quite pleased w/ last year. This '04 showed warm fig, kirsch and blowzy fruit notes that I'd associate w/ a poor 2003 Chateauneuf du Pape. No idea what was going on here, while I didn't hate it, I'll reserve my slandering judgment on this because Pape tasted nothing like this to me a few months ago. Could have been a cooked bottle?
2004 Haut Bailly
Ahh, the beauties of decanting! Veronique knows her wine, as this '04 needs quite a bit of coaxing (I was dismissive of this vintage a few months back, but alas, here is the recant of my previous testimony). This, to me, was the essence of the Pessac (or is it the Leognan, you'll have to ask Veronique about that) as it expressed a perfume full of charcoal ash, cigar box, sweet tobacco, dark currant and cocoa that could have only come from you know where. Spot on typicity, wonderfully deep and rich on the palate and had enough length to make me scream for more. An outstanding '04 and one of which that I'd be happy to have in my cellar to drink in the midterm, 93 points.
2005 Haut Bailly
Well my teeth were still stained from the UGC I attended earlier that afternoon, but this '05 was not one that I had the good fortune to taste until the end of the evening, and it was well worth the wait. An exotically ripe '05, exploding w/ extraordinary aromatics of blackberry reduction sauce, plum pudding, fig and a mélange of other wildly inviting dark fruits. There is solid brightness to the tone of the fruits in the palates and a strong, authoritative structure (hallmark of '05) maintains the wine's beautiful focus. One that Graves traditionalists will need to wait for…but hedonistic tongues may want to dive in a bit earlier, 94 points.
*As for the question regarding pre-phyloxera vines, those vines are incorporated into the master blend each year (w/ one exception, I think in 1998, when a barrel or two was isolated and tracked at the winery). The old vines produce extremely low yields of super-concentrated fruit that they feel needs to be incorporated into the final assemblage. They don't believe in luxury cuvees as it is their impression that the house wine suffers without the best fruit, so I suppose you could place Haut Bailly in a train of thought that is similar to Clos des Papes of Chateauneuf du Pape.