A Cayuse Experiment
I just slurped my way through multiple vintages of varied vineyard designated Syrahs from Cayuse. This exercise (much like exercises in college involving forty ounce curls) offered up some preliminary conclusions regarding these wines that I'd like to share w/ the group.
1). The wines are flat out delicious. Obviously not constructed in a 'universal tastes will adore them' fashion, but this particular palate is still salivating over the Great American Scream-machine rollercoaster ride they provided me with (I'm already back in line for another spin).
2). There are sparse other wines from the New World that have the singularity and unbridled zealous character of a Syrah from Christophe Baron. With the exception of Clarendon Hills, I've yet to find a Syrah outside of France that tasted more like a Cote Rotie than Cayuse.
3). There is a hallmark style that Cayuse exhibits in each vintage that strikes me as more sharply specific than most any other producer. Although different vintages display varying weight, acidic tone and length, these wines are unmistakably Cayuse year in, year out.
4). Cayuse Syrah is the most forward, precocious fine wine I've ever experienced. Irrespective of the vintage, the wine essentially screeches out of the bottle once the cork is popped. Decanting this wine has been as senseless as watching a Lifetime movie; it simply doesn't change it a bit (for better or for worse). I've yet to experience tightening up in any one of Christophe's Syrahs, regardless of vintage and/or bottle variation.
5). Now I've hardly done an exhaustive study (and these wines don't possess enough of a track record for me to accurately gauge), but from the '00 to the '04, these stubborn little buggers don't seem to change at all! Up to this point, I've yet to experience an evolution in response to neither modest b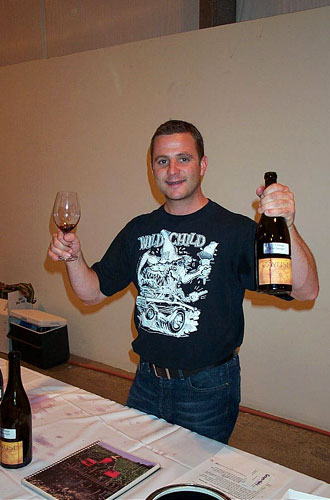 ottle aging nor oxygenation. It would be a massive leap of faith for me to predict any evolution other than the wine maintaining status quo for an impressive amount of time (10-15 years perhaps) and then inevitably degenerating. Because they perform so beautifully via pop 'n pour and have such great typicity, blindly buying the wine and drinking it at your leisure (assuming you enjoy the profile) is nearly guaranteed, sans TCA….but waiting for a miracle to happen in the cellar seems a bit foolish, at least at this juncture.
I can't possibly correlate these 'types of wines' w/ other 'types of wines,' to broadly state that 'New World wines don't evolve,' but as of now- drink 'em if you got 'em, or hold 'em for that special moment…perhaps tucking one bottle away to see if the unpredictable does eventually happen….but when it drinks this well young w/ almost immediate complexity, and shows no signs whatsoever of budging, why wait & what exactly are you waiting for?