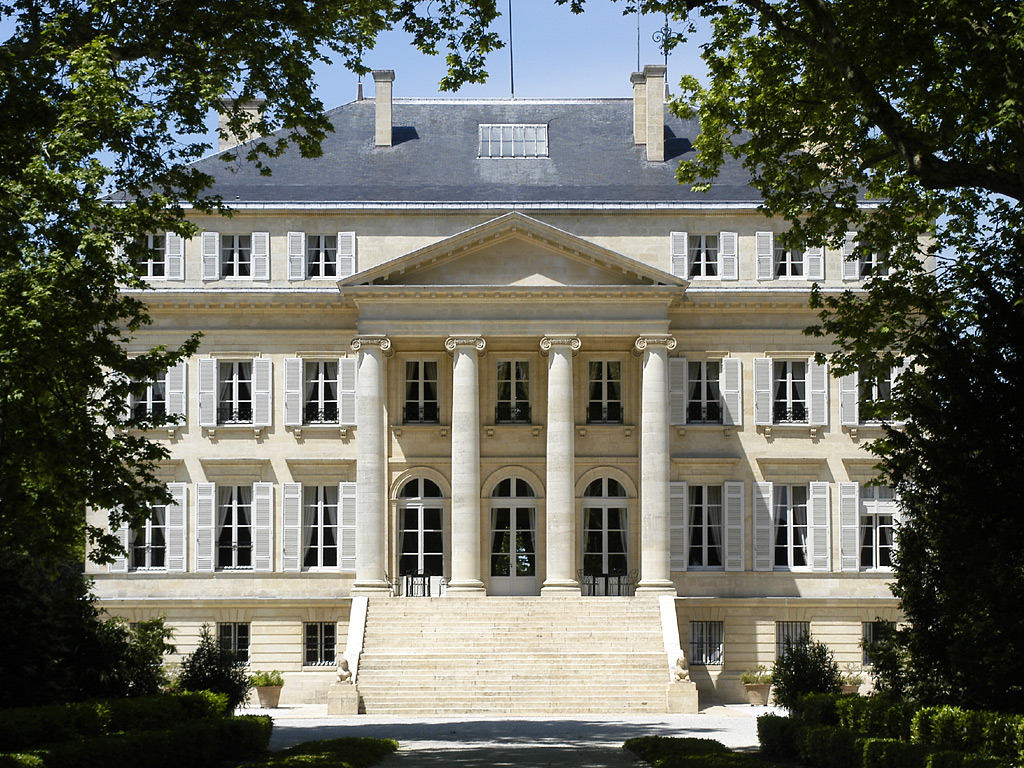 The Margaux Mystique
This recent vertical tasting of Chateau Margaux left me w/ a couple impressions. One is that of consistency. While the selected vintages were hardly exhaustive, the steadfast quality of Mentzelopoulos era wines did seem to belie vintage characteristics, especially evident in the 1980 performance. Considering the price of these wines, this model of consistency has become an absolute expectation (at least they deliver). Another observation, perhaps a blatant one, is that this famed Chateau is one, uncompromisingly elegant claret. While Lafite can give her a run for her money in the category of 'most feminine Cabernet of the Medoc,' the attraction of Margaux in her youth and maturity seems to be of a profile all her own. I must have used the adjective 'pretty' in just about every tasting note of the mini-vertical! The better vintages, like the '96, seem to marry an understated power w/ finesse in such a classy fashion that truly is brilliant to witness. Having said all of that, this wine has become a luxury item that is well out of the grasp of wee-little tasters such as myself and I'll have to consider its beauty a mere tease until I hit the lottery. Love it at 50 bucks, laughable at 500 to me, but hey; the market will bear it so to all its purchasers, bottoms up.
The tasting was kicked off w/ a couple 'petit Margaux' wines of the Chateau herself, as well as its frugal but formidable neighbor, Malescot St. Exupery. The wines were served non-blind and are listed in the order they were tasted.
Pavillon Blanc, 2000
I happen to like Margaux's pure Sauvignon Blanc as I find it offers up a unique overlay of complex textures in an impressive synergy. The nose sports a confluence of flint, bailed hay, key lime and hints of quince that turn racy on the palate; with a rich core of cream off-setting the wine's piercing mineral definition. This is a fascinating interpretation of the varietal from a fabulous terroir, 91 points.
Malescot St. Exupery, 2001
This, along w/ the 2003 Gloria, is perhaps the perfect weekday claret for early consumption. This young Margaux is already evolved and maturing, with lovely flavors of pipe tobacco, lilac, cedar box and red currants that cascade across the palate. Pretty and fresh, with a medium bodied personality, bright perfume and fine balance, 88 points.
Pavillon Rouge, 2001
The second hand vin of Chateau Margaux in 2001 is currently showing very tight, structured and unevolved in relation to the Malescot. There is a solid core of dark raspberry, plum and savory spice notes buried underneath the wine's current façade that will likely need 2-3 more years of cellaring to emerge, but impressively stretch out on the finish, 89+ points.
Margaux, 1980
This is my second offering of my birth year wine and one that pleasantly surprised the group as the vintage was, we'll say 'less than optimal.' From the pop of the cork, this high toned, expressive gem was pure poetry. Aromas of truffle shavings, lead pencil, bright red cherries, scorched earth and crushed rocks greet the taster in mature delight. Not only did the wine begin well, it persevered and gained a bit of depth as it aired, 90 points.
Margaux, 1978
Got to love the history of Bordeaux, the listed alcohol content of this wine is 11.5%! Well, although it seems to have the potency of a German Riesling in respect to its alcohol, this 30 year old claret is vibrant, intense and very structured. Very youthful in the mouth, exhibiting plenty of sappy black currant, bay leaf, fresh tobacco, blackberry and smoke notes that are persistent, generously textured and still quite rich in tannins. Perhaps the most masculine Margaux tasted this evening as it was not nearly as pretty as the rest, but it certainly was outstanding, 92 points.
Margaux, 1999
Hands down the most decadent, precocious vintage tasted this evening. The 1999 showed very rich and forward, w/ explosive currant paste, cassis, smoked mushrooms, tapenade, cocoa and plum pudding notes that are loaded w/ delicious, opulent baby fat. While youthful and exuberant, the wine is super endowed, layered and showed gorgeously enough to be drunk today, or cellared for up to 15 years, 94 points.
Margaux, 1998
This was my least favorite vintage as the harvest rains seems to have caused some dilution in Margaux, as well as several other upper Medocs from '98 that I've tasted (I generally prefer the '99s Medocs to the '98s, so this is no surprise). The wine is backward, austere and currently has a structure which overwhelms the modest character of the wine. There are some cassis, violet and huckleberry notes to be found, but this wine is currently more about acid and tannin than it is about enjoyment (although the Margaux charm is still there!). While time may resolve some of the tannin, I wouldn't imagine that the substance can withstand too much aggressive aging, 87 points.
Margaux, 1995
Here's where the class of Margaux becomes very evident. While taut and compact (it shut down even more severely throughout the evening), this wine is exceptionally focused and hints at the exotic, with notes of violet, boysenberry, mocha, espresso and crème de cassis lurking in the background. In the palate, you can sense the wine is impeccably balanced, supremely channeled and light on its feet (although it demonstrates quite a bit of power). Don't expect an explosion anytime soon; hibernation seems to be the word of the day for this vin de garde, 95+ points.
Margaux, 1996
Although '96 was in line w/ the '95 in the regard that it was more about potential, it was the crème de la tasting! This vintage of Margaux was somewhat reserved as well, but much flirtier and more exuberantly perfumed than the '95 as it simply wouldn't be contained! Notions of lilacs, cut cedar, graphite, black currant, blueberry sauce and wild berries seem to be on the verge of total eruption, but are grounded in a streamlined sense of impeccable finesse that seems almost haunting. A true synthesis of strength and grace and should be a wonder to watch evolve. If I were a millionaire, this would be the wine for me to pop on my 25th wedding anniversary, 97+ points.