From one world to another, Beaucastel & its offspring, Tablas Creek
The colonization of the 'New Rhone' can largely be attributed to one very important partnership involving the Perrins of famed Chateau Beaucastel and Robert Haas of Vineyard Brands. The purchase of a 120 acre plot in western Paso Robles in 1989 marked the beginning of a project that would serve as the foundation not only for the Tablas Creek vineyard, but as a springboard towards providing Californian vintners w/ the plant material needed to craft world class Rhone-style wines.
After the high altitude, limestone rich land in Paso Robles was acquired, vines from Beaucastel's estate vineyards were imported, indexed (to demonstrate that they were free of virus and disease), grafted and multiplied. Tablas Creek constructed one of the most invaluable nurseries in the state, providing pioneers like Bekcmen, Qupe, Ridge, Bonny Doon, Garretson and Zaca Mesa with access to over 200,000 bench grafted vines. Before the nursery was founded, access to reliable sources of Mourvedre, Grenache, Roussanne, Marsanne, Viognier and Picpoul blanc was sparse, mostly via 'suitcase clones,' smuggled in by various growers (John Alban perhaps most famously). Varietals like Grenache Blanc and Counoise did not exist in the United States until Tablas Creek imported them in the '90s, enabling them to achieve BATF recognition in 2003 and 2000 respectively.
Tablas Creek has acted as a harbinger of Rhone influence and insight to the New World not only by providing exceptional plant material, but also by crafting some of the finest examples of Rhone inspired wine that the state of California has ever seen. With the exception of Edmunds St. John, there are hardly any Rhone Rangers that can exhibit the subtlety, finesse and complexity of a Tablas Creek wine. For that reason, I thought it would be interesting to taste their wines alongside their parent expressions from Beaucastel. I didn't know whether I'd witness a brother-sister relationship in the wines or something more akin to that of distant cousins. Nevertheless, I figured that juxtaposing wines from different areas that came from the same clones, same producer and same ideology would be an intriguing match-up. The tasting did not disappoint.
The wines were served non-blind and decanted accordingly.
The whites:
Tablas Creek Roussanne, 2001
This '50 case experiment' came from the two best barrels of Roussanne and is the first year that Tablas Creek bottled the pure varietal. While Roussanne notoriously endures a finicky maturation process, this 6 year old bottle showed no signs of oxidation nor did it reveal that the wine had entered a dumb phase. A surprisingly open knit effort that exudes dried honey, flowers, poached pears and exotic coconut spice notes in the nose. The palate evokes notions of a fine Meursault as it is lavishly textured, nuanced and underpinned by a defining mineral character on the caressing finish, 92 points.
Tablas Creek Esprit de Beaucastel White, 2003
The performance of the Roussanne made the showing of the '03 seem like a bit of a let-down. This young white is currently taut and unyielding in its somewhat drowned character. Showing vanilla bean, candied lemon and high grade toast, the wine's poise was undeniable although the complexities felt like they were hibernating a bit. A toughie to evaluate at this juncture, but patience may be rewarded, 88+ points?
Beaucastel Vieilles Vignes Roussanne, 2004
The standard bearer of fine white wine from the Southern Rhone showcased just what distinguishes it from the pack, as its haunting depth and marathon length were on full display once the cork was popped. A pure Roussanne, from 50 plus year old vines, explodes w/ waves of orange marmalade, honey coated pineapples, lanolin, buttered walnuts and green tea notes that coat the saturate the palate w/ thick, intense flesh. The texture can be likened to flan, as the wine's low acid, pleasure-filled thrill-ride overwhelms the senses to infinity. Depending upon the vintage, Beaucastel's expressions can achieve what is perhaps the apex of the varietal, 96 points.
Esprit de Beaucastel White, 2005
Now I was worried that tasting this wine would be like bringing a butter knife to a shotgun fight, but much like the Giants against the Patriots, this guy held his own! Even after the VV, the grace of the Esprit was impressive, as were the generous fig, pecan, melon and beeswax notes that personified the personality of this wine. The Grenache Blanc (25%) and Picpoul (5%) obviously charge this wine w/ much more racy, green apple driven acidity than a pure Roussanne, making a direct comparison between the two difficult (the '01 Roussanne provided a more interesting side by side experience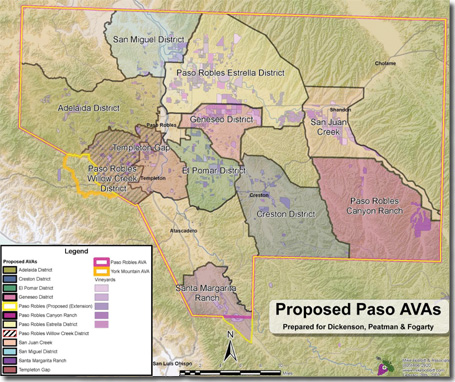 w/ the VV). The '05 Esprit is a wonderfully textured, full bodied, crisp white that serves as a terrific homage to the Rhone, 92+ points.
The reds:
Tablas Creek Reserve Cuvee, 1999
This blend of 40% Mourvedre, 27% Grenache, 23% Syrah and 10% Counoise marked the second vintage for Tablas Creek, and it has matured beautifully. The first scents transplant me to the Rhone, as a cornucopia of saddle leather, cedar, dusky spice, white pepper, pipe tobacco, dried cherries and currant paste notes remind me of a cigar lounge. The palate shows spot on evolution as the tannins have resolved and the savory elements seem to harmonize in perfect symmetry. This was certainly fine form and style from Tablas, especially when you consider that the vines were barely a toddler's age at the time, 91 points.
Tablas Creek Esprit de Beaucastel, 2004
A cepage that was heftier on Mourvedre (50%) and Syrah (27%) than the '99, expressed one of the more distinctive profiles you'll find in a Rhone Ranger. The aromatics were purely Provencal, with freshly picked rosemary, ground black pepper, hearty plum, hoisin sauce, and black berries leading the way to a suave, finesse-driven palate. This wine is wonderfully fashioned from head to toe and I find it's melding of French sensibility and New World terroir to be riveting, 93 points.
1995 Beaucastel
This vintage of Beaucastel has always proved to be outstanding, but shows frustratingly irregular in terms of maturation. This bottle was the most evolved and expressive yet, as scents of truffles, cigar box, graphite, black currant, raspberry and loam emerge from the glass. While there is still a sinewy grip to its body, all the pieces seem to have fallen in the right place in this highly nuanced Beaucastel, 93 points.
1998 Beaucastel
A stark contrast to the '95, this vintage's pleasure driven personality is exuberant and explosive w/ just about every sensation a Grenache thrill seeker could ask for. Ripe, luxuriously rich notions of black forest cake, kirsch liqueur soaked Provencal herbs and roasted figs command the taster's attention immediately. The wine is full and decadent in the mouth, w/ plush, boisterous character that would fool just about any Beaucastel purist in a blind line-up. A total knock-out, 96 points.
2000 Beaucastel
Much like most 2000's, this wine is extravagantly perfumed, forward and out-right precocious from the starting gates. Aromas whack you over the head w/ plum sauce, black currant, spice box, dried mushroom and gravel leading the way. A rich, multi-layered body, with a core of rich, gorgeous fruit gushes over the palate with such ease, making this wine nearly impossible not to love, 94 points.
2001 Beaucastel
To me, this wine was the surprise of the evening as I had never tasted it previously and did not expect it to wow me more than the 2000 did. Boy, were my pre-conceived notions inaccurate! This was, hand down, the darkest, deepest and most seriously structured Beaucastel of the tasting and is an absolute masterpiece in the making. Black cherry, raspberry ganache, cocoa, garrigue and grilled meats power their way through the senses. A thick, opulent palate slowly unfolds to hint at its core of pure, dark fruit, massive concentration and show-stopping potential. Compared to its sibling vintages, this 2001 had by far the most intense, cascading finish that is sure to foreshadow a remarkable future, 97+ points.
Not only w
ere the Tablas Creek wines not out of place adjacent to their more illustrious siblings, they were down right formidable. It is clear to me that they don't want to make a French wine in California. Harnessing their unique terroir, clones and rich tradition has provided their New World wines w/ a character that exudes an Old World sensibility, a combination I have seldom noticed in other Rhone Rangers. It is a bit early to discuss track records w/ Tablas Creek, but this tasting demonstrated that these wines not only possess the ability to maintain in the short term, but to evolve favorably as well (something of which many Californian wines can't claim). While the Perrins set the bar extremely high at Beaucastel, it seems the Haas family is poised to give the Rhone a run for its money, California style. Considering the youth of the vineyards at Tablas, these wines have nowhere to go but up in terms of quality. Considering their current modesty in pricing, I'd start experiencing these gems sooner rather than later. Something wonderful is happening in Paso Robles, and if you haven't tried them already, I highly recommend you give the wines from Tablas Creek a shot.