Attention Syrah Lovers...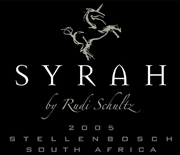 I highly recommend you give this producer a try, that is if you haven't already:
Rudi Schultz Syrah, Stellenbosch South Africa, '05
A really terrific Syrah, w/ an obvious Cote Rotie influence to its aromatic profile of char grilled bacon lard, espresso roast, black currant and crème de cassis notes. The smoky entry gives way to a rich, savory tune of juicy black fruit w/ ample weight & power, staying focused and silky through to the finish. While certain elements call a Guigal D'Ampuis to mind, others aspects seem to have a Stolpman-like sensibility. All in all, the 3 or so vintages I've had from Schultz have opened a window to something special, and this winery continues to be VERY competitive in terms of value, 94 points.