Top Finger Lakes Producers
Hermann J. Wiemer
Next to Frank, Wiemer is as close as it gets to an 'old stalwart' of the region, crafting exquisite Rieslings that are a bit plumper than Ravines, yet equally distinctive. The domaine produces a Dry, Semi-Dry, Late Harvest, 'TBA' style, Reserve & two single vineyard designated Rieslings from the HJW & Magdalena plots. The '08s were on display; with the Dry Riesling already developing into a dynamic, fresh white, w/ cackling nerve and a long, persistent finish. The Semi-Dry handles its residual sugar w/ kit gloves, as a tangy rope of acidity tugs along the middle weight frame to a fine finish. The Reserve is tangibly more complex, w/ vivid peach, orange peel and bushels of orchard fruit shimmering from bouquet to body. The textures were g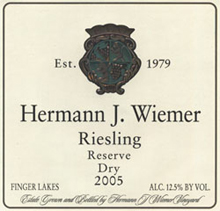 orgeous & delineated, awash in pure, clean flavors that just wouldn't quit.
The nerve center of dessert wines began w/ a Late Harvest Riesling, which was Spatlese-like for those familiar w/ Mosel monikers, showing round textured canned peach notes that stayed spry & straight to the finish. The Late Harvest Chardonnay demonstrated what an inherently trite grape it is in comparison to Riesling, boring, flat, verve-less. As for the Late Harvest Bunch Select 'TBA style' (for the non-German acronym-inclined, TBA doesn't stand for 'To Be Announced,' it refers to its not so close kissing cousin 'Trockenbeerenauslese,' which for brevity sake we'll simply call URD or 'Uber Rich Dessert Wine), this was a sheer powerhouse and perhaps the most staggering wine experience of the trip in regards to price & power. The viscous, opulent dessert wine packed a torrent of baked apricot, apple pie and honey drizzled flavors that sizzled through the mouth richly, backed by a beaming brightness often found in cool vintage Sauternes.
My favorites from team Wiemer were the single vineyard Rieslings. Call me an SVD slut if you wish, but they more than merited their special designations. The HJW '08 was gorgeous, competing w/ the Argetsinger for best dry Riesling in the country, demonstrating brilliant poise and focus. An impenetrably mineral-coated gloss, w/ a tightly wound beam of smoky slate holding sway over the green-fruited core today. Whispers at nuances sure to stun w/ short-term cellaring. The Magdalena, an appreciably warmer spot, dazzled w/ its ripe peach, apricot, Jon gold & floral notes that came on in textured waves, leaving you thirsting for another sip. Though I preferred the HJW, the showy Magdalena is the more approachable of the two.
While the sparkling wines generally disappointed on my trip, particularly due to my high expectations, Wiemer seems to have a firmer grasp on bubbles than most. Their '06 Brut only takes a back seat to Lamoreaux Landing, showing a delicate balance between lush fruit and linear cut. The flavors were pure honey and golden delicious, w/ sharp edges framing the malic-acid tinged finish wonderfully. The Blanc des Noir '03 has already evolved to a nutty profile, as hints of damp earth, cherry and peat moss fill out the bouquet. Softer and ready to drink, yet lacks the drive & punch of the younger Brut.
Next to Riesling the most consistent category in the FLX has to be Gewurztraminer, as Wiemer's take revealed a deeply honeyed profile, w/ fragrant lychee & spice notes fanning out along the firm finish. An '06 Rose was on tap & fans of bottle aged pink may find the tawny colored '06 to be a uniquely earthy interpretation, with its singular toffee, underbrush and mushroom notes atop a bony frame. While a provocative take, this style doesn't exactly rub my rhubarb, as I found the baby rose to be more palatable, albeit in a straight forward, trim & dry package. The Chardonnays were unremarkable quaffs.
My wife's on-going Cabernet Franc contest, her favorite varietal, gave honorable mention to Wiemer. The '07s walked a fine line between herbacity & straight up ve
getal spunk, with the entry level Franc cooking up a salad of cabbage, tapenade and red currant notes that possessed round textures & a pleasantly bitter close. A noticeably cleaner Reserve was all red fruit & cigar humidor, picking up bright, pliant layers in the mouth & packing enough density for cellar shedding.
While the line-up is dauntingly large, Wiemer manages to pack enough quality into the bottle to merit some breadth in experimentation. That said, I still feel their Rieslings are too terrific to not uproot the tame, expendable rows of Chardonnay in the vineyard.
Wine Rating
Pinot Rose '06 78
Dry Rose NV 84
Blanc des Noirs '03 83
Brut '06 87
Dry Riesling '08 87
Semi-Dry Riesling '08 86+
Reserve Riesling '08 90
Late Harvest Riesling '08 88
HJW Riesling '08 92+
Magdalena Riesling '08 91+
Bunch Select Riesling '08 93
Gewurztraminer '08 88
Cab Franc '07 84
Cab Franc Reserve '07 87+
For those that haven't visited the winery, I highly recommend taking a look at their library releases. While they don't have any vintages past 1990, I picked up an '02 'Johanisberg Riesling' (pre-appellation labeling law disallowed calling a non-Johanisberg Riesling as such...for those that are confused, think 'Korbel Champagne' being relegated to simply 'sparkling wine') which performed brilliantly:
This 8 year old Riesling was adorned in a light golden Chardonnay-like hue; w/ effusive and myriad scents that were akin to walking through a florist's shop. The bouquet attacked at all angles, ranging from bee pollen, pine, apricot…countless and unnamable floral arrangements. The entry was spicy, spry and lighter than air, with an invisible depth of flavor that wrapped the palate in a gentle push, lingering & dramatic on the finish. Gorgeous, long, minerally- very impressive showing- best over the next few years, 91 points.