A vertical of Chateau Rayas, alongside a smattering of others w/ Robert Parker & company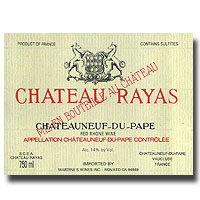 250 Miles to Dim Sum
On a typical Wednesday of a typical week, I took the day off and decided to board a 7 am train to Washington D.C. It was a damp, overcast morning, covered in a blanket of slow humidity. Oppressive late July heat has never been kind to me, but it didn't bother me on that typical Wednesday of that typical week. I was headed to Mark's Duck House for dim sum, some 250 odd miles away, 3 and a half hours by train. I hadn't eaten that morning and was hungry, w/ the salty idea of steamy shrimp dumplings making my stomach tremors audible above the rustling hum of the train.
I arrived at 10:30 and grabbed a taxi. We crossed over the Virginia boarder and the cab driver asked where I was going and where I came from. "New York," I said. "Here on business," he asked? "No, dim sum," I replied matter of factly. When he asked what dim sum was, I lazily referred to it as a sort of Chinese brunch. He dropped the small talk and plowed ahead to a row of amorphous strip malls, each indistinguishably suburban and lost in bland dimension. I immediately thought of Lotus of Siam in Las Vegas, wondering if all the great holes in the wall outside of New York reside in strip malls. I tipped the driver well and took my coveted bottle of '05 Rayas inside Mark's Duck House.
Inside the scantily lit, yet colorful restaurant lay a series of pedestrian looking tables, fronted by what looked like a counter service for to-go orders. Hovering above, as if it were on a stage, lay a broad, oval shaped table that appeared to be completely aloof from its surroundings. It was flamboyant and festive, adorned in large, Riedel stem glasses that towered over the other modest, tucked away stands drowned in background noise. I clumsily wandered around the table w/ my bottle of 2005 Rayas like a half blind dog off its leash, until a waiter stopped me, asking if I needed any help. I asked him if he had any decanters for wine. After a game of roulette, which featured an old water pitcher, a carafe half full of ice cubes and cola & a sort of porcelain tea kettle, I settled on a cork screw and took my seat. When Robert Parker arrived w/ a handful of bottles wrapped in old Rayas labels, my anxiety eased up, and I let my hunger turn to thirst.
As more people and more wine began to arrive, almost two dozen bottles piled up on an alcohol stuffed carousel, spinning around the table like a giant Lazy Susan. I foolishly began w/ a Gewurztraminer from some producer of some vintage. It t
asted like….Gewurztraminer. I had Rayas on the brain for over four hours and knew that I wouldn't be able to focus on anything until I sipped some of that ethereal nectar. Oldest to youngest, I poured some of the '78 into my stem.
After some damp, musty scents blew off, the
'78
Rayas
began to round into form, highlighting wonderfully fresh layers of dried cherry, olive paste and sweet balsamic notes. Very light on its feet, & picking up a bit more density on the back end, the palpable mineral core reminded me of an older Burgundy that has stayed afloat, yet is well beyond its youthful paddling. The perfume of the
'79
was exceptional for a 30 year old Grenache, w/ scents of sweet cedar, graphite, wilted rose and cranberry fruit. Light to mid-weight, she danced across the tongue w/ plenty of grace, wearing each wrinkle in style. The
'82 Fonsalette
, a year Jacques Reynaud dumped all the Rayas & Pignan fruit into the Cotes du Rhone label, was mouth-watering & full of damp earth notes, underscored by a ripple of gravelly texture. Better to feel than to taste, as its fruit has atrophied a bit, leaving the midpalate hollow and a touch short.
Moving to the middle of the decade, the
'85
was the first Rayas to show a heartier, dense character, flirting w/ the black fruit end of the spectrum. The wine has good concentration and an outstanding mineral presence, leaving the palate w/ a pebbly impression that reminded me of the prickly texture of a warm day at the beach. The
'88
was top flight, an obvious ripe vintage product, w/ a bouquet of iron, sweet raspberry and kirsch liqueur. A more round, mouth-filling personality nestled in the palate, w/ layers of sweet red fruit wrapping up the gentle finish. The
'90
, which Bob said was representative of his most recent experiences, relies on purity over exuberance (which I gather has waned over the years). The warm licorice, sweet berry and spice cake notes are all there, filling out the mouth w/ good weight and excellent drive. While I unfortunately never had the opportunity to taste this legendary vintage at its apex, its character still represents the essence of how sensual a fine Grenache can be.
The tragedy of the afternoon was found in the
'95
, which was battered in TCA & relegated to a pile of newspaper excrement. The
'96
, my surprise of the tasting, wiped the '95s failure off the slate & performed brilliantly. Jacques Reynaud's last vintage really seems to have come into its own, demonstrating a delicious coat of glycerine-like texture and packing in just about as much flavor into its mid-weight frame as it can handle. It was never overwhelming but always suave and sincere. This type of vinous seduction is more than worth whatever its going rate on the secondary market may be today. The vertical was capped off by the neonatal
'05
, which went from strength to strength as it aired. The perfume was pure ambrosia, full of cocoa dust, warm ganache, garrigue and the liqueur of black raspberry fruit. Coy at first, but as I came back to the '05 it continued to gain length, weight & richness, yet always retained grace and elegance. While I truly enjoyed the '03 & '04, this vintage appears to be Emmanuel's first masterpiece & is one for the cellar.
A mélange of other bottlings filled out the carousel, and I chose to stick w/ the southern Rhone, sampling an
'00
from my favorite producer,
Vieille Julienne
. While this just misses the mark of its more recent vintages (namely the '05, '06 & '07), this is a fine example of how excellent their entry level Chateauneuf can be. The '00 has terrific concentration in its blackberry, cedar and lavender flavored palate, glazed in a layer of silky, impossibly refined tannins. The depth of fruit unfolds on the finish, uncoiling like a snake. Then it was on to
Beaucastel
, w/ the sweet honeysuckle scents of their
'06 Chateauneuf du Pape blanc
calling my name. This is the finest vintage of this cuvee that I've sampled, and I imagine it would stand up to many vintages of their singular Roussanne Vieilles Vignes. Expressive and opulent, the roasted nut, fig, citrus oil and floral flavors unfold on the full-bodied palate like a tropical breeze. In spite of the intensity of fruit, the wine has plenty of energy to keep it alive & fresh. The
'06 Chateauneuf du Pape
rouge from
Beaucastel
is also outstanding, and almost in line qualitatively w/ their immense '05. Dark and big boned, the tree bark, grilled meat & spicy black currant fruit have an impenetrably deep, almost brooding character about themselves. Layered and sinewy, yet the tannins are surprisingly gentle at this stage relative to the raw titan they fashioned in '05. The final Chateauneuf du Pape of the evening was nothing short of surreal.
Clos St. Jean's '07 Combe des Fous
(a.k.a 'Spanish Fly') is fantastically immense, w/ its black forest cake and blueberry fruit almost melting atop the taste buds like warm butter on sweet corn. In typical fashion, this cuvee is suave as well as rich and fresh in spite of its fullness. Clos St. Jean's '07's are flat out sensory bombs that will push just about any taster's pleasure gauge well beyond oblivion.
I moved north to the
Hermitage
hill to sample an
'06
from the master,
Jean Louis Chave
. While most '06 Northern Rhone Syrah I've had to date are fresh, forward and trim, Chave's bucks the trend w/ its inky black color and sinewy texture. Its personality is backward, subtly revealing aromatic nuances of black currant sauce, crème de cassis and smoky mocha, yet its presence truly takes hold in the palate. The mouth-feel is best described as sculpted, as if it were carved out of stone. While there's a thickness to the wine's concentration, the fresh acidity and firm spine keep everything in symmetry. The Chave white Hermitage was engulfed too quickly for me to enjoy, which is a bummer as its one of my favorite white wines in the world. Further north, I was reminded of one of my favorite smells, the bouquet of a mature
Cote Rotie. Jamet's '00
has a nose that is as heavenly as they come, akin to waking up to the sizzle of apple wood smoked bacon after a week of fasting. The palate was exemplified by its seamlessness and grace, weaving in spices like cinnamon and clove to the black currant fruit, which washed over the mid-weight
frame, leaving a mouth-watering impression on the finish.
The Jamet's counterpoint was
Guigal's '03 D'Ampuis Cote Rotie
, an effusive, almost lavish take on the appellation w/ its black currant paste, dark olive, bacon fat and sweet toast notes. A delicious initial attack fans out over the palate, offering up a texture that has a certain luxury about it, so much so that I almost felt guilty for drinking it (a la chocolate chip cookies at 3 am). No rough edges and no apologies…damned if I know what lightning they put in that bottle. The cherry on the sundae was a fascinating Italian take on Syrah, a 'table wine' from a domaine called
Les
Cretes (the stalwart producer of the Val D'Aosta region), their
'04 Coteau La Tour
. The wine is loaded w/ up front liqueur of blackberry-like fruit, but spiced in a savage, almost beefy cloak, which keeps things interesting. Suave, yet shows good spine, the Les Cretes manages to pull together a great synthesis of fruit w/ earth and should age well over the next decade.
Surprisingly enough, Rhone-based wines have much more flexibility than most wine aficionados give them credit for, and this group mingled very well w/ the varied dim sum dishes put together by Mark's Duck House. I wasn't keeping track, but it felt like we put back over a dozen different courses. We survived through them by eating like birds, I a pigeon and the rest, vultures.
Robert Parker is as generous an everyman as I've met, and only an everyman to those that know him. He tells his stories of Chateauneuf du Pape freshly, w/ the excitement of a young child on Christmas morning. When my father used to question me if it was possible to transform a passion into a profession w/o bastardizing your love of the thing, I can look to Mr. Parker for a resoundingly affirmative answer. I'd imagine the answer to how he's done it is a clandestine one, but all the same, I can't see his giddy enthusiasm expiring before he does.
I enjoyed being in the company of Bob and his friends as much as I could have hoped to. I left them in a bit of a haze, lacking the faculty to draw any substantial conclusion from our afternoon. As I boarded the late afternoon train back to New York I came to appreciate what I'd learned. See I never used to leave D.C. w/ much inspiration to return, save for a hankering for crab cakes. This time was different. I knew that I'd be back and I knew why. In fact I couldn't wait to board the early train again. After all, 250 miles isn't very far to go for good dim sum.
Wine Rating
Rayas '78 91
Rayas '79 90
Fonsalette '82 84
Rayas '85 93
Rayas '88 94
Rayas '90 95
Rayas '95 NR
Rayas '96 93
Rayas '05 98
Vieille Julienne '00 93
Beaucastel Blanc '06 95
Beaucastel Rouge '06 94+
Clos St. Jean Combe des Fous '07 98
Chave Hermitage '06 95+
Jamet Cote Rotie '00 92
Guigal D'Ampuis Cote Rotie '03 97
Les Cretes Coteau La Tour VDT '04 93