It's a blue chip Pomerol that I've had fleeting experience w/ at best (before this tasting I could tally my encounters with this Chateau on the fingers of one hand).

Although it is from Pomerol, the cepage is generally rich in Cabernet Franc and again, I can generally count my 'classic renditions' of the grape on the fingers of one hand.

The production is so limited that the second wine, Pensees, has actually become sought after (and rightfully so, as this 500 case micro-plot of younger vines demonstrated that it can turn out formidable performances even in dismal vintages like '92).

Ummm, and to be totally honest, it's expensive as sh*t and I, my friends, am no player, so nights such as these allow me to experience life like a big boy!
If it weren't for the generosity of people such as Leo Frokic, I'd be firmly planted in the vicarious section of the on-deck circle when it comes to gems such as these, so for all the bounty you've bestowed upon me Leo, I thank you. Although I was not clocking in at full speed for the tasting (I have been battling a digestive alien for the past few days that has wrecked some serious havoc on my drinking vocation), I gladly hobbled my way out to join you, alongside the NY-NJ crew, a la 'Willis Reed' of the New York Knicks….well, not quite that dramatically, but you guys know I would have been there even if my intestinal walls had been removed in favor of steel sewage piping.
We began w/ a Leo mainstay, as well as a mystery Jaouen wine…
1998 Corton Grand Cru, Jadot
Apparently I've had this wine 4 or 5 times, but you know how all Burgundies taste alike ;) This was as primary, unevolved and youthful as I can recall this wine showing in recent history, full of smoky glazed nuts, poached pears and vanilla coated apple skins from nose to palate. Fairly thick and dense but lacking a bit more lift and clarity to really get me excited this evening. Having said that, I've been able to enjoy this wine as it's aired and morphed (and it is an outstanding performance), 89+ points.
Jaouen's mystery beast….
Paul is a very clever, sarcastic (and bitter) Raiders fan that picked a beauty to serve blind to us. My impressions were initially 'wow, this is stinky, I like it.' There was a man named Brett that arrived to the party, but alongside his friends briar, bramble and leather, he put together an interesting aromatic performance! This was a savory, spicy wine, full of hearty plum, pepper and grilled chestnut flavors that flirted w/ an exuberant sweetness but remained firmly in the 'pleasantly earthy' category. Surprisingly silky, fresh and medium proportioned in the mouth, it divided the table into half believe it was Bordeaux, w/ the other half thinking it had more of a Rhone sensibility. I was more so in the Rhone camp & (ding ding) correctly guessed the vintage, but we were just a tad off on the country…eh-hem, Lebanon. The wine was a '99 Musar, which showed (according to Jaouen) much more mature (or older, at least) than imagined. My first Musar, and damn did that Cinsault and Carignane didn't give this a South of France profile (w/ a twist)?! A provocative experience, but not entirely thrilling, 87+ points.
Then the second…
1992 Pensees de Lafleur
For the record, this is the only '92 I've had (and I've had it a handful of times) and I also have no real interest in trying any others, but this is pretty good stuff! An aromatically pure effort, full of graphite, iron, crushed lilacs and dried berries in its perfume. While I wouldn't call the palate dilute, it is on the lean side, but fresh, w/ crunchy acidities pumping an electricity through the body of the juice that keeps things in fine balance, 86 points.
1993 Lafleur
A frankly denser wine, as it broods a bit in the glass we are greeted w/ scents of cedar, violets, gravel, dark cherries and cocoa that suggest a bit of power, but the palate is medium in weight, with firm tannins that flex along a symmetrical, long finish. Again, a relatively garbage year that Lafleur managed to harness in outstanding fashion, a commendable 90 points.
1994 Lafleur
This was a toughie, as you could tell there was some substantial midpalate flesh and some beautiful complexity that was plagued by a subdued aromatic disposition, suggesting a bit of taint (I'm in the camp that would be fairly surprised to witness a 'closed' '94 Lafleur). While not overtly corky, the 'off' sensation weaved in and out, and really seemed to clip the finish as the wine flattened out. We didn't believe this was a representative bottle, N/A.
*the '95 suffered a similar fate, though most of the table found it to be a touch more blatant in its respective taint. Time to break out the violin…you guys know you want to throw a screw-cap down on Lafleur!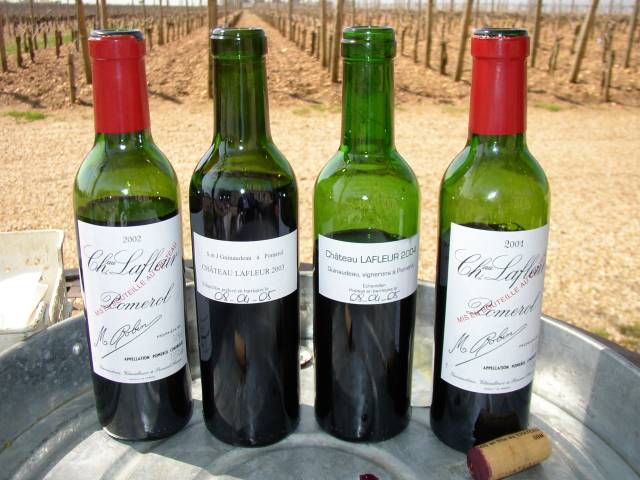 1999 Lafleur
As close to a sex pot as we found this evening, the '99 could be described as an aristocratic temptress that seduces in places such as the Four Seasons. Succulent, sultry juice that brimmed w/ fresh mushrooms, damp earth, sweet cherries, raspberries and truffle shavings in the nose, but really shined w/ the multi-dimensional palate that offered up plump, gorgeous fruit buttressed by great mineral definition. This is a vintage I like more and more w/ each next taste, and certainly one that is showing extremely well at age 9, 93+ points.
1998 Lafleur
Leo mentioned his desire to 'prove Bob wrong' w/ his 'measly 90 point score' on the heralded '98 vintage, but Wine Advocate vendettas aside, this wine is too damn young! Perhaps the headiest, yet most backward Lafleur of the evening, showcasing a lovely nose of roasted coffee, dark plums, bitter chocolate, black currants and smoke, the palate is virile but still quite disjointed as the structure seems to block the wine's ability to transition its flavors along the finish. While tannic & in need of serious cellaring to come together, this Lafleur is virile and frankly stuffed so I imagine it will augment and reward patient owners, it just won't ever be a seamless wine in my opinion, 92+ points.
1988 Lafleur
I believe this vintage received the least amount of decanting time and may have suffered a bit because of it. In spite of its preparation, the 1988 is endowed w/ a seriously hypnotic perfume redolent of crushed flowers, incense, spicy cigar smoke and sweet blackberries. While there's quite a bit of build up and anticipation from the scents, it fails a tad short on the palate as it is lighter than I'd hope, but airtime demonstrates a sinewy austerity that I found quite pleasant, just not exemplary. As a side bar, I do think this will put on a bit more weight in the cellar and it is an extremely juicy vintage of Lafleur that paired exceptionally well, 91 points.
1996 Lafleur
This was the best vintage we tasted & a wine that any cellar should feel absolutely honored if it were blessed with its presence. While supremely elegant and classy, this '96 is a powerfully channeled tour de force that is years away from realizing its true dimension. Fabulous notes of dark cherries, graphite, tilled earth, a mélange of dark fruits and spice box are imbedded in this potent, stuffed and waiting to explode masterpiece of winemaking. The best wines of this vintage really are something else aren't they, 95+ points.
Bonus…
1990 Dame de Montrose
Alright, what did Montrose do in '89 and '90 to be so blessed?! This is nearly a 20 year old second wine that flat out rocked it! We popped and poured this dazzler for dessert and were immediately greeted w/ Secretariat's second cousin, Sir Brett a lot, but oh how inviting was it?! This is a complex, spicy, concentrated beast of a second wine, loaded with toffee, hay, rich black currant sauce and deep, dark fruit for days. Very dense and rich in the mouth, providing a sheer joyride of a tasting experience that I'd ante up for on any occasion. While it lacks the length and sheer power of it's more noble father, this is a second wine that really doesn't take a back seat to anyone, 92 points.