The Contrast is what makes them Compelling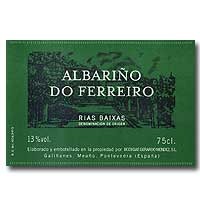 While dozens of other illustrations cold exemplify my thread title, this particular thought was actually inspired by an Albarino. In terms of what 'varietally correct' actually means, the definition is likely best described w/in our own minds, tastes and perceptions of literature. That being said, my subjective bias comes into play w/ Albarino. From all I've read and tasted, I've surmised that the archetypal Albarino is a nervy, somewhat lean little bugger that isn't the most expressive grape in the bunch, yet it lures you in w/ its whispering complexities that unravel sip by sip. One taste of the '06 Do Ferreiro and it immediately struck me as if it were the original model, w/ its breed and character showing as clearly as a cloudless view from the harbor. Whether or not that impression is a correct one is surely up for debate, but what I loved most about how it struck me was that I almost immediately thought of its polar opposite cousin from Pazo de Senorans. Polar may be a bit strong, considering that I haven't found many extremities in terms of breadth from Albarino, but 'very different' is sure to suffice for the purpose of this discussion. Equal and opposite, yet on any given day, they are at the top of their game- and I find them to be two of the best Albarinos of the bunch (not to say I've had exhaustive experience...but these two producers surely can compete at the top of the pyramid). So what's all the hub-bub? For me, excellent wines from the same region and same grape that strike you totally differently is what makes the world of wine so enduring....so fascinating. If a little glass of Albarino can remind me of what makes this breed of booze so beguiling (say that 5 times fast!), then I can't help but wonder if there are other wines out there that do the same for you guys?

In terms of region or variety, are there two wines that you can think of that are at odds w/ each other stylistically, yet qualitatively the best in the business?

The inspiration:

Do Ferreiro Albarino, '06, or 'the little Albarino that could'...
This is a really classically styled, complex Albarino that begins w/ a multi-layerd nose of lemon verbena, chalk dust, salty sea breeze and petrol that call an Alsatian Riesling to mind. Subtle and whispering, yet it keeps you coming back for more just to it to see if you missed something. The palate weaves in a vivid array of white peach and dried pineapple flavors that stay bound by that unmistakable sense of Albarino austerity, keeping things focused, angular and palpably mineral-toned. It all ties in beautifully at the end, letting notes of stone and jasmine chime in on the lingering finish. I can think of very few wines that juxtapose this type of weight w/ such a sense of severity in the spine. This is a far cry from the battonage bombshell by Pazo Senorans, but I find it equally compelling in its take from the other side of the spectrum, 90 points.