Well, I'm sure plenty of you are asking 'back…from what, where'd they go?' Well I personally was a huge fan their breakout '03-'04 blockbusters and found the '05 vintage to be quite a departure from the fore-mentioned years in terms of opulence and excitement. Don't get me wrong, the '05s were solid, and some of which I thought were outstanding, but I found that the vintage overall didn't deliver the 'this is what I'm talking about' experience I had come to expect from Kosta Browne. While tasting through them last year, I distinctly remember wanting more, craving those chills the '03s and '04s sent down my spine as if they were gateway drugs. A couple quick scents of their '06 Sonoma Coast brought back the same visceral reaction that I missed through the speed-bump hiatus that was '05.
When they strike it right, I find the wines unique in their ability to pull off the 'Pinot on steroids' stereotype as they shout out their aromas through a megaphone but then reel them into supreme focus in the palate, as all the intensity of fruit beams along effortlessly. No w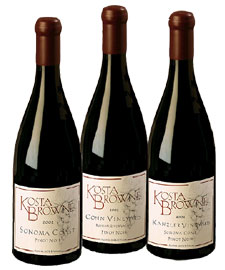 impy wines, no concern over alcohol content and nothing but varietal purity…just at a more thrilling, pleasure-induced volume.
Kosta Browne Pinot Noir, Sonoma Coast, 2006
Aromatically intense and opulent, w/ a flutter of licorice, black raspberries, smoked pork, tree bark, cocoa, thyme and dark cherry liqueur notes intensely filling the room. The palate is laced w/ sweet, crushed berry fruit that drips in sap but is not short on lithe precision. A beautiful combination of muscle and weightless finesse creates a performance that nets the most compelling KB I've tasted since the knockout '04s. What a spectacular effort for an appellation-level bottling, 95 points.