More than Getting by, with a Little Help From my Friends

Clos St. Jean
Tasting the wines of Clos St. Jean w/ proprietor Vincent Maurel was truly an exhilarating experience. My travels in Chateauneuf du Pape allowed me to become a
bit more acquainted w/ the house style of the domaine prior to hiring consulting enologist Philippe C
ambie and the distinction between the then and the now could not be any more stark. Under the talented Cambie's supervision, the elevage of the wines has been significantly reduced, the yields lowered, stems completely removed (much to Laurent Charvin's chagrin) and small barrels have begun to be utilized for the upbringing of the Syrah and Mourvedre.
Previously, from the few vintages I tasted in town (the '01 is included at the conclusion of my notes), the wines showed more distinct gamey character, green tannins and harder textures. I didn't think they were particularly poor, but they bear zero resemblance to the thrilling examples of today that I cannot exalt enough.
Vincent is a politically charged, forward thinking man that is beginning to experience some of the pitfalls of his recent success. The 100 point rating he received for his Deus Ex Machina cuvee in 2005 set off a whirlwind of phone calls, emails and frantic knocks to the door that he had no idea how to handle. He has a soft spot for trying to please everyone and has diligently tried to eradicate the seas of 'gray market' sales of his wines by revamping his labeling system. He has branched out to the emerging markets in Korea, China, Russia and beyond and appears to be at the forefront of spreading the joys of this wondrous appellation to the new world of wine consumers.
A bit of juicy bits are in order…
Clos St. Jean Chateauneuf du Pape Blanc, 2006
An impressive white bottling is also made by Clos St. Jean, with a third of Grenache Blanc, Clairette and Roussanne finding their way into the blend. Richly perfumed, w/ warm brioche, demi-glazed citrus blossoms and poached pear characteristics filling out the bouquet. This white has tremendous body and ample, crunch acidity to carry along its fat beautifully to a solid finish, 91 points.
Clos St. Jean, Cuvee Classique 2006
This base cuvee is made specifically for the European market, with the Vieilles Vignes (comparable in quality) being the designated wine for the United States. While the '06 was just bottled (which may have deterred the wine's focus and exuberance a bit), it demonstrated the classic profile of the vintage. Sweet notes of pure cherry fruit, rhubarb pie and hints of wild blueberries dance from the glass. In the mouth, the wine demonstrates a forward, lush profile that is full of low acid, precocious fruit, 92 points.
Clos St. Jean, Combe de Fous, 2006
While there is roughly 60% Grenache in each top cuvee for Clos St. Jean, the two wines differ in that the Combe de Fous is filled out w/ 20% Syrah, 10% Vaccarese and 10% Cinsault (whereas the Deus Ex Machina is turbo-charged w/ 40% Mourvedre). Vincent Maurel said that he owns the oldest Vaccarese vines in all of Chateauneuf and includes such a high proportion of the variety in the cuvee in somewhat of a memorial fashion. This vintage of Combe des Fous is off the charts in terms of sheer depth and richness. Loaded w/ hedonistic sensations of raspberry ganache, black cherry liqueur, forest floor and ground cardamom flavors that shudder through the nostrils. The wine cuts a broad swath through the palate, building and gaining force in the mouth, but maintaining a keen sense of purity along the way. This performance by St. Jean is easily a superstar of the vintage and perhaps my favorite rendition of this cuvee to date, 97 points.
Clos St. Jean, Deus Ex Machina, 2006
While the Combe de Fous tends to be a prettier showpiece of a wine, the Machina never fails to deliver the muscle, and these textbook profiles are well represented in '06. Smoky, brash aromas of graphite, sage, cured beef, fig, tar and sweet tobacco turn dark and massive on the palate. Brooding in the mouth and a bit backward, this cuvee will likely take a bit more time to come around and reel in its blockbuster girth, but has all the raw materials to put on a show in the years to come, 95+ points.
Clos St. Jean Chateauneuf du Pape, 2004
I was shocked at how well the appellation cuvee from '04 showed and it could certainly give the '05 Vieilles Vignes a run for its money. Fabulously effusive, decadent scents of baker's chocolate, black raspberry, kirsch and cassis notes ooze from the glass. The mouthfeel is as sensual and flamboyant as one could hope for, showcasing tiers of liqueur-like fruit, with hints of port reduction checking in on the finish. Yowza! 93 points.
Clos St. Jean, Combe des Fous, 2004
I have a feeling we caught this wine at just the right time as it completely exploded from the bottle in no way I'd ever experienced from any 2004 previously. A sheer display of aromatic fireworks catalyzed the tasting experience w/ outrageously intense notions of date bread, fig preserve, linzer torte and white flowers. The palate manages to cram in layer upon of flawlessly extracted fruit with the type of polish and plush texture that is practically surreal. I would have never pegged this as a 2004 if it were served to me blind, 95 points.
2004 Clos St. Jean, Deus Ex Machina
I've tasted this wine on a half dozen occasions and it has never failed to impress me. A heady, hugely endowed wine that brings notes of melted asphalt, warm chocolate ganache, meat juices and crème de cassis to the table in more than ample proportions. The Machina is tremendously structured and powerful in the mouth, w/ sweet tannins and suavely wrapped layers of black fruit cascading their way to an authoritative finish. Although it is still quite showy at this stage, I get the se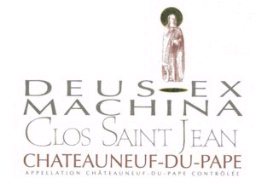 nse that there may actually be a bit more in store for this '04 during the next couple of years, 96+ points.
Just to see what a difference a man makes, we tasted the 2001 Clos St. Jean after finishing off the tremendous line-up of '04s and '06s. Philippe Cambie's affect on this domaine cannot be understated, and the proof was indeed in the bottle.
2001 was a spectacular vintage and Clos St. Jean is privy to one of the finest terroirs in the region (120+ acres, with 60% of their vineyard holdings coming from the famed La Crau sector), , but the synthesis of those two elements did not create a profound wine during that vintage. Hardly recognizable in relation to the previous wines, this '01 was distinctively beefy, with cooked plum, mushroom, spiced game and vegetal notes that were a tad off-putting, yet not completely unattractive. In the mouth, the wine shows a bit more of its brawny side, flexing some sturdy, yet drying tannins that clip the wine and call out for a bit of cassoulet to calm them down, 82 points.
It is evident that the structure and character of the wine is solid, it is just simply austere and lacks the polish and symmetry of the new garde at Clos St. Jean. Again, I don't think the wine is necessarily bad, but Vincent and Philippe knew that it didn't exploit the terroir nearly as profoundly as it could, and they strived to make wines that were memorable, not merely palatable. Changes in the upbringing, vineyard and selection had to be made, and in my opinion, the wines, and the appellation are benefiting from this breed of evolution.