Chateau Beaucastel, the Stalwart in Oldschool Chateauneuf has some Modern Digs!
Visiting Chateau Beaucastel revealed how dichotomous the estate is in the respect that the wines are traditionally made yet they come from perhaps the most modern facility in the entire appellation. Now when I say modern, I am not implying that they utilize fancy schmancy techniques (such as reverse osmosis, fermentation in heavily toasted barriques or
inoculating w/ commercial yeasts), but their facility is not only immaculately clean, it is architecturally brilliant.
Before I visited Chateauneuf, I envisioned Chateau Beaucastel as a bit more of a cottage industry, perhaps because the wines have an old school type of austerity in their youth and reveal a trademark 'stank' in their aromas as they mature, endearing the estate's avid fans in a manner akin to a Burg-fanatic. While I knew they were one of the most established, high volume producers of the region, I couldn't help but envision a meeker, more soiled operation when sticking my nose into a gamey, leather-coated glass of '83 Beaucastel (perhaps all those tales of the deplorably grubby conditions at chez Bonneau and Reynaud seeped into my Beaucastel image?). My perceptions were completely unfounded as the operation at the Chateau is as hermetic and high class as any top flight winery in Napa, offering up a stark contrast to most Southern Rhone producers that ferment in filthy old foudres in their parent's basements. Perhaps this all adds more fuel to the debate as to whether or not the 'Beaucastel funk' is a by-product of the spoilage yeast brettanomyces, which is often associated w/ unsanitary cellar conditions, or the inherent characteristics of Mouvedre as a varietal.
Ironically enough, Beaucastel's high energy sommelier Fabrice Langlois (who is now marching off to the Chateau's marketing team) focused nearly his entire presentation on the vineyard, not the snazzy winery. The Perrins of Beaucastel have been farming organically since the late 1950s and the viticultural trends they set decades ago are beginning to catch on with the new stars of the appellation. The viticultural detail at Beaucastel is extremely meticulous, from rolled stone to rolled stone, regardless of the bottling the grapes end up in. Fabrice was particularly adamant when describing the Chateau's philosophy that strives to find a balance between a stressed vineyard (that generally produces riper, more intense expressions) and an over-stressed vineyard (plagued by dehydrated fruit and lacking acidity). Never short on wit or clever commentary, Fabrice's musical analogies, which compare the 13 grape varieties used at Beaucastel to orchestral instruments, always seems to win over the clientele.
While Beaucastel is most widely known for the longevity of their sturdy reds that contain an abnormally high percentage of Mourvedre, the recognition they are receiving for their white Chateauenufs, the Roussanne Vieilles Vignes in particular, has exponentially increased over the past few vintages. Considering that the vignerons of Chateauneuf du Pape, whom generally have very little regard for their own whites, say that Beaucastel makes compelling white wine, you know they must be something special.
While the Hommage a Jacques Perrin cuvee & Coudoulet bottlings are hardly secrets amongst fine wine sewing circles, I still think their sister operation in Paso Robles, California, Tablas Creek, flies way too far under the radar. Although there are countless Californian producers that offer little more to Rhone aficionados, other than a large fee, the price-quality ratio of the entire Tablas Creek line-up is formidable even for the most Francophilian of palates.
Chateauneuf du Pape Blanc, 2006
The Roussanne really was shining in '06, as it represented over 80% of the white Chateauneuf and could rival quite a few vintages of the Vieilles Vignes. This showed beautifully right out of the gates, full of golden flowers, roasted pecans, fresh fig and honeysuckle glazed lemon scents that shot from the glass as if they were coiled on a spring. In classic Roussanne fashion, this cuts a broad swath acro
ss the palate, showcasing expansive layers of impeccably ripe fruits that are cut w/ ample acidity, crunching along to a persistent, powerful finish, 95 points.
Roussanne Vieilles Vignes, 2006
Believe it or not, I actually think this vintage needs another year in the bottle to delineate itself a bit more, as it is just so massive and craves a bit more definition. A heady, seething nose of extreme richness brings floral, lychee, tangerine oil and tropical notions of jammy quince fruit to mind. In the mouth the wine leaves a monstrous impression, with a thick, oily texture of remarkable extract, intensity and sheer hedonism. There's a lovely sense of purity underneath the fat, and I'd recommend drinking this bombshell from 2009-2012, or waiting at least a decade to see what treasures lie in its maturity, 96+ points.
Coudoulet Cotes du Rhone, 2005
The 2005 vintage is a beautiful one for Beaucastel's wines across the board, and their Cotes du Rhone (located just outside the appellation of Chateauneuf du Pape) is a complete knock-out. Hints of pepper, dried raspberry, framboise and mineral tones fill the nose, evolving to a mouthful of juicy, full-bodied fruit, revealing excellent depth. In the mouth, the layers of flavor gain in intensity and finish w/ a solid, graphite-laced finish, 91 points.
Chateauneuf du Pape, 2005
I was extremely impressed w/ how precocious and nuanced the '05 showed right after the cork was popped. The blissful funk of Mourvedre was already apparent in the nose, w/ additional scents of dried flowers, raspberry ganache, tarred blackberries and melted licorice making an appearance. While the wine is absolutely massive in the mouth, its tannins are surprisingly supple and sweet, paving the way for generous tiers of dark fruits to tickle every inch of the palate w/ remarkable finesse. Judging by the Chateau's track record I'd imagine this will no doubt close down for a period of close to 5 years, but it may surprise you w/ accessibility over the next couple years if your curiosity gets the best of you, 96+ points.
Chateauneuf du Pape, 2003
Not only was this not up to snuff in comparison to the '05 Chateauenuf, the '05 Coudoulet absolutely trounced this difficult vintage of Chateauneuf from just about every angle. It showed a bit soily, with horse stable floor, charred wood, blueberries and pepper in the nose, leaving a bit of an awkward first impression. The palate was austere, plagued by intrusive tannins, a shrill texture and a backward personality. Obviously not a good day for '03 Beaucastel window-shopping, but even as it evolves, I doubt it will ever achieve the harmony, symmetry or generosity of any solid vintage this estate has produced, 87+ points.
Chateauenuf du Pape, 1989
This is arguably one of the finest vintages of Chateauneuf du Pape that Beaucastel has ever produced, and it is curren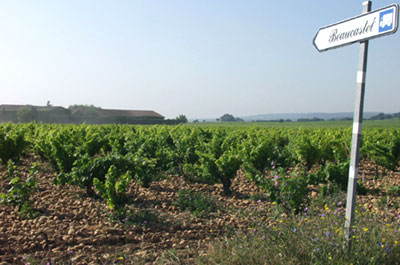 tly drinking absolutely beautifully. The aromatics are a heavenly concoction of black currant, cassis, graphite, freshly tilled earth, beef's blood, olive paste and char-grilled game that splice the suggestive w/ the sauvage in absolutely textbook fashion. In the mouth, there is a confluence of textural complexities that are difficult to discern, as the wine is simultaneously chewy as well as silky, w/ a sheath of tendon that flexes some obvious tannic muscle, but eases up on the gas enough to allow an array of subtlety in. This impeccably balanced, structured masterpiece is sure to have at least another two decades of top notch drinking in its future, which is no small feat for a Chateauneuf du Pape, 98 points.