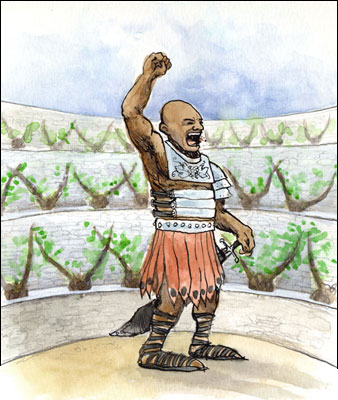 The Great California Syrah Taste-Off
I freely admit that Grenache is a true love of mine and I've chosen to adopt it as a California infant variety. The typical toddler pitfalls, spills and stumbles were all evident during last week's gathering of the Golden State's most renowned Grenache based wines. While my expectations for my beloved domestic Grenache are extremely high, the so called 'terrible twos' of infancy are an obligatory aspect of any emerging varietal's evolution on new grounds.
Why am I waxing on about Grenache to introduce a Syrah tasting? Well, to put it bluntly, the top Syrahs of California put the peaks and valleys of Grenache in perspective. When tasting through these luscious, spicy, complex beauties that married an New World opulence w/ hints of the Old World sauvage elements (which give the grape its haunting, varietal hallmark) I realized that when it comes to Syrah, these producers really 'get it.' Of course this is my subjective determination, but the synthesis of the old w/ the new creates the perfect canopy for Californian winemakers to distinguish themselves on. I believe that archetype is what put Napa Valley on the map and I also believe that is what the up and coming producers are striving for w/ Grenache. When you taste 'it' from a leader like Alban, Colgin, Sine Qua Non, or Kongsarrd, you just know it, and you want to taste 'it' again, from more and more producers. For the purposes of this tasting, we'll call it 'the gateway Syrah drug,' that I hope will pave the way for the dozens of Grenache gurus to follow.
Thank you Cheryl for bringing us together for a wonderful tasting and a double thank you goes out to your putting up w/ our sinfully gross behaviors. You put together a fantastic evening and it was a pleasure to meet you!
A novel beginning:
Au Bon Climat, Hildegard 1999
Robert Dentice has a great knack for bringing the best wines at offlines, and while this wasn't the best, it was certainly the most esoteric. A blend of 55% Pinot Gris, 40% Pinot Blanc and 5% Aligote (an evil twin of Charbono?) is really hitting a lovely stride at age 9. The nose challenges the senses, spraying an array of roasted hazelnuts, pine, melon and dried pineapple through the air in an effusive fashion. The palate is smoky and round, but finishes w/ a bracing structure that echoes a lingering bitter almond note, 87 points.
The big boys turn to dance:
Shafer Relentless, 1999
My go-to steakhouse wine (as it has uncanny consistency from vintage to vintage and tends to be the least abused wine when it comes to gratuitous mark-ups) comes in the form of 80% Syrah and 20% Petite Sirah, and this '99 opened up beautifully in the glass. Initially shy, but evolved w/ air to showcase a nose of dried beef, dark chocolate, blackberries, cedar and pepper notes. The texture in the mouth began in a savory, chunky style, but transitioned to much more supple, perfumey flavors that sparked on the lively finish, 92 points.
Behrens & Hitchcock, Chien Lunatique 2002
Although we started out in solid fashion w/ a sturdy cuvee from Shafer, this idiosyncratic Syrah blend spiced the line-up w/ a controversial array of flavors that literally imploded all over the palate. Not for the faint hearted, this outrageous aromatic display included notions of marzipan, cocoa ganache, marischino cherry liqueur and the essence of pure vanilla extract which oozed from the glass as if it were the topping on a cake (I suggested we dollop some whipped cream on top, treating it like the sundae it was). The mouthfeel pumped out extracted, super-ripe fruit shot out of a 45 magnum in as plush and sweet a texture as anyone could imagine. Having said all that, fans of the El Nido Clio will adore this wine because it does reel all its flavors in a fairly honest package & for all its low acid extraversion, it is a balanced, delicious 'wine product,' 91 points.
Jonata, La Sangre de Jonata 2004
This 100 percent Syrah cuvee began gorgeously, in as suave and polished a fashion as any w/ sweet charcoal infused berry flavors that get your heart racing right out of the gates. In the mouth, the attack was extremely plush and generously fruity, but it lost quite a bit of its focus as alcohol and some biting tannin really unraveled towards the finish. I am not going to apologize for this wine, but it may actually have been a bit closed up & I doubt we saw her at her finest hour. A couple years in the cellar should help flesh out the wine nicely, 90+ points.
Kongsgaard Syrah, 2005
Not only have I jumped on the John Kongsgaard bandwagon over the past week, I've decided to launch a new campaign for him to run for office! Between this otherwordly Syrah and the Roussanne/Viognier blend I enjoyed this past Sunday (much less his delectable Chardonnays), I am well beyond wowed w/ his dynamic talents & exceptional fruit. This was perhaps the most complex synthesis of the Northern Rhone w/ Napa Valley that I've ever experienced. Blockbuster notes of iron, dry aged steak aux poivre, beef blood and cassis jam titillate the senses and are even more revealing in the wine's massively structured mouthfeel that pumps out the beautifully deep, long flavors w/ monstrous intensity. This wine is a complete home-run and will only get better in the cellar (eh-hem, was brought to us by none other than Robert Dentice- I suggest you invite him to your next offline!) 98 points.
Colgin Estate Syrah, 2003
Let it be said that all the Cayuse haters out there that like Colgin Syrah are absolutely full of it! This is as Cayuse a profile as I've ever noted in California Syrah (and trust me, that is a GOOD thing) that is loaded to the gills w/ fried duck fat, tar, blackberry reduct
ion sauce, pepper and graphite notes that permeate the senses in an irresistible, seductive fashion. The wine really dazzles in the mouth with its amped up sauvage profile that is exuberant, yet chiseled along a fine, muscular spine. The Bionic Frog of Napa Valley is really a sight to be seen as it hits just about all the pleasure points a Syrah lover could hope for, 96 points.
Dumol, Eddie's Patch Syrah, 2003
This is definitely a case where the flight pairing hurt this wine a tad (it was served next to the Colgin) as it was certainly as expressive as the Colgin, but seemed a bit clumsier in comparison. The wine screams out its fig, melted asphalt, bittersweet chocolate and blueberry flavors from a loudspeaker, and is loaded w/ a huge mouthfeel, layered in sweet, tantalizing fruit. The '03 Eddie's Patch is an undoubtedly powerful, loaded effort that just seems to lack a bit of the poise and structure of the Colgin, 94 points.
Radio Coteau Las Colinas Syrah, Sonoma Coast 2005
Selected from a distinctively cooler site more known for its Pinot Noir, this vintage from Radio Coteau starts out exceptionally strong, full of bacon fat, wilted flowers, cedar and pepper notes in the nose that are strikingly expressive. Well, it was a good start folks, as this bit of foreplay leaves us austere and short on the palate, simply begging for more generosity and wondering where the finish went. I don't know enough about this producer to say whether or not this will put on substantial weight in the future, but think there is enough material here to give it another go 'round in two years, 88+ points.
Alban Reva 2005
This is so ludicrously black that it in fact has no rim. It is as impenetrable as the sky on a moonless night. Seriously endowed and full of imbedded intensity, hinting at charred meats, boysenberry, blackberry ganache, freshly paved road tar, violet and peppercorns that are hauntingly polished, poised and all in reserve. This young Syrah is a volcano waiting to erupt, becoming more and more expansive in the mouth as the wine evolves but always retaining a beautiful sense of tension and symmetry. Textured to the 9's and begging for some time in the cellar to unwind its hidden potential, 97 points.