Eternal Sunshine of a Wine-less Mind


Our own Daniel Posner celebrated his 10th year at the helm of his own retail outfit, Grapes the Wine Company, with a lavish event that showcased over 150 wines from across the globe. I have been critical of the 'gang-tasting' events that prize volume and labels over access and evaluation, and I am happy to say that Grapes put together an event that offered something for everyone. Whether you were there for a 50 dollar buzz or an educational tour from some of the world's most interesting wines, the event spliced adequate surface area w/ judicious organization that was capable of satiating just about any taster's appetite. Top notch representatives from diverse distributors offered up candid dialogue in a forum that was not only approachable, but almost serene in comparison to the majority of large tasting events that I've attended. Kudos to Grapes for setting an archetype that any aspiring tasting event should follow in the future.

I was graciously introduced to Josh Raynolds, an assistant editor for Steve Tanzer's International Wine Cellar publication, and enjoyed tasting just about everything under the sun w/ him. Josh is not only a passionate, talented wine professional, he is also an engaging and approachable gentleman. While he doesn't claim that any of his opinions on wine are definitive, his open mind and keen industry sense is as refreshing as it is commendable.

Being blessed w/ such company inspired me to splice together a few streams of consciousness that were compiled throughout the evening. I hope you enjoy my oddly focused monologue in lieu of my customary tome of comprehensive notes and perhaps will entertain a bit of discussion on any nerve these observations might pinch.

· In Champagne, some non vintage cuvees can be utterly compelling. Taittinger fashions a NV called 'Prelude' that caused me to swoon like a 12 year old girl at a school dance. The blend is derived exclusively from grand cru vineyards (50% Chardonnay from Avize and Le Mesnil sur Oger in the Cote des Blancs; 50% Pinot Noir from Bouzy and Ambonnay in the Montagne de Reims). The depth, penetration and impaling precision literally brought a tear to my eye, as Josh and I continued to drool over subsequent samples that were generously poured. How many NV bubblies still strike a profound chord when they are tasted after a Two Hands Shiraz? Look out Krug, there is a new sheriff in Champagne that doesn't need a vintage date to be absolutely breath-taking!
· Wine has plenty of guilty pleasures. What constitutes a pleasure as guilty is highly personal, particularly in wine. Perhaps Robert Parker has a couple of Chinons stashed away that he actually digs, or maybe a magnum of 1990 German Pinot Noir is nestled tidily under his bed (sorry to pick on you Bob, but I just had to!). Maybe hardcore Riesling junkies don't want to admit that they have a bit of a fetish for Mollydooker's Two Left Feet? Well, for whatever reason, I am ashamed to admit that I liked the Prisoner, Orin Siwft's recycling bin of random varietals that include Zinfandel, Cabernet, Syrah, Petite Sirah and Charbono. For some inexplicable reason I feel like I shouldn't like it. Perhaps it's the Charbono, or it could be that it is unabashedly delicious without any real rhyme or reason. Either way, don't tell the wine snob Gestapo that I dig the Prisoner. It will be our little secret.
· How many times do tasters form a concrete opinion on a wine before they actually put the glass to their lips? The 2003 vintage in Europe was perhaps one of the best examples of this phenomenon, with countless opinions from the angry mob claiming that the Merlot was flaccid, the Cabernets were cooked, the Rieslings were soft and the Grenache was a hollow tannic mess. The voices of thousands seem to resonate as if they were shouted into echo chambers from high-tension towers. The 'collective' opinion can become so loud and so ferociously vehement that you can't help but buy in, even though the majority of the collective hasn't tasted the wines (what is tasting, like a pre-requisite or something?!). Well, tasting the 2003 Sociando Mallet absolutely smashed the aggregate rationale about what the boiled Medoc wines taste like. Not only was it approachable, perfumey and beautifully symmetrical, it was subtle! If I owned multiple bottles I would have no shame in popping one tonight. Not for research, not to experiment, but for consumption! Damn that 'guilty pleasure' of committing infanticide too, come out of the 'infant Bordeaux' closet with me, it is quite liberating! If you tasted before you judged, you'd remember that vintage characteristics are full of caveats my friends!
· Australians are brilliant tannin managers. From high end to low end, poor vintage to grand, all the Aussie wines that I tasted were round, silky and sans hard edges. Whether or not they were all great wines is certainly up for debate, but they know what us Americans like. If you poll a few hundred average wine consumers in America about what they look for in a red wine, 9 out of 10 of them would list 'smooth' as the characteristic that they admire most (well it might be relegated to number 2, behind 'having alcohol' of course). The Southern Starz portfolio demonstrated that Australian Riesling doesn't have to be reserved and mineral (showcased by the tropical, forward Koonowla 2007) and that Shiraz isn't always an alcoholic explosion (the crisp, perfumed Oliver Hill lineup was full of violet and red fruits that were, of course, smooth).
· The Spanish battleground of the modernists and the traditionalists couldn't be more dichotomous. We tasted a 1989 Priorat from Clos de L'Obac that was so old it made me wonder if Priorat even existed when the grapes were harvested (I had no clue where the wine was from until Josh enlightened me). Curiously enough, the wine was idiosyncratic, nuanced and spectacularly loaded w/ finesse. I have no clue how a 2001 Clos de L'Obac will age because I presume it is not fashioned in anywhere near the style that the '89 was, but this 18 year old Carignan based blend proved to be a fascinating glimpse into the brief history of this en vogue region. What strikes me as an even more beguiling proposition is whether or not today's Priorat drinker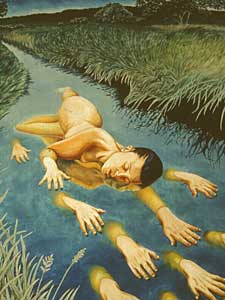 would even enjoy such a wine?
· Clarendon is an absolutely stunning producer of Syrah (not Shiraz, Syrah). I couldn't help but notice how similar these wines are to Christophe Baron's Cayuse Syrah from Washington. The make up, style and explosively sauvage elements that these wines possess are as close to Cote Rotie as I've tasted in the New World. The Brookman Vineyard and Piggot Range examples from 2004 are of classic quality and are certainly deserving of all the press and acclaim they've been endowed with.
· Clarendon is not a stunning producer of Grenache. The wines that I was most intrigued to taste were the most disjointed, alcoholic and fabricated of the group. Several had off aromas of glue and other marring eccentricities that tempered my enthusiasm and left me very perplexed. While these '04s are promising on the palate, they are currently a bit of a mess.
· News flash, Chapoutier is a phenomenal winemaker! Whether it is a bargain from Roussillon (Josh told me his international flights were pouring the '04 Bila Haut by the glass…I apparently fly the wrong airlines as I'm happy to score a nip of Bolla Soave when I soar across the Atlantic), a high priced Hermitage or a side project in Australia, he flat out knows how to make great wine.
· Godello is a wonderful grape! Whether it is the 2005 Bodegas La Tappan Guitian (which still maintains a sense of plump, generous character in spite of its electric malic acids) or a larger scaled, lavishly oaked Australian Verdelho, I am on board! I know the styles are so contrasting that they seem to have polarized opinions but I happen to think that this grape's identity is so intensely individual that it can sing either tune in a beautiful harmony. Spain has a band of frugal outlaw white grapes that have snuck their way into my cellar in droves and will continue to do so until my palate is silenced. Verdejo, Albarino, Viura and Godello should be on any consumers radar screen if they seek unique, value driven juice.
· 2004 is a tannic, richly textured vintage for Napa Cabernet that may actually have produced some reasonably priced (relative to Napa) gems that are worth a search. 2004 Howell Mountain Cabernet is a dense, ruggedly flavored beast that I'd love to become more intimately acquainted with a few years down the road. There's mountain tannins in them thar hills!