How does one pick a favorite? Better yet, why does one choose a favorite? Perhaps American upbringing encourages our competitive spirits to pit competing forces against one another to see how they stack up. Monikers abound in just about any vinous related setting, whether it's the wine of the night, wine of the vintage, wine of the flight….and so on and so forth. Professionals and amateurs alike tend to systematically analyze, compare and contrast peer groups in the hopes that some form of quantitative hierarchy can be created. This practice is quite customary and the conclusions that are formed typically lend themselves to witty debate and endless banter. Perhaps this practice shapes the foundation for quintessential 'wine locker room' talk.

Well, that brings me to a bit of a spin on a particular favorite of mine, Chateau Angelus. During our vertical tasting of the Chateau at Picholine, I was asked why I had such a hankering for Angelus and found myself stumbling on my words a bit. I chose no systematic pathway, nor enological algorithm to come to this conclusion. I don't have a particular fancy for their proprietor and have no business ties to this famed 'Right-Banker.' I guess I just dig it.

I recalled a particular tasting, which was quite early on in my young fascination with wine, which pitted a young 2001 Cheval Blanc against a baby 2003 Angelus. Cheval Blanc had become a Hollywood icon after it was immortalized in Sideways, so lines and lines of thirsty tasters flocked like puppets on a string, just to see what the fuss was about. I personally had very little background information on either Chateau, but I proved to easy prey to the illustrious shadow cast by Cheval sticker shock. I remember the reactions of the uninitiated, gasping in awe of the famed estate as they sipped in what proved to be a lovely example of Bordeaux's youthful elegance. Curiously, I decided to test drive the Angelus first, likely due to the ravenous behavior towards the Cheval that made sneaking in a pour of it a nearly impossible feat. My first scents were so naked, but so visceral w/ Angelus. I didn't break it down into component parts like lilacs, blackberries and other laundry list items…I simply didn't have to. My reaction was simple, in that this wine conveyed to me exactly why I love Bordeaux. It was pure, it was sexy and its subtle allure left me mumbling, as if I were pierced by the glance of a stranger. I couldn't quite pen it, but knew I wouldn't forget it.

While my romance w/ the Angelus could have lasted an eternity, I did finally make my way through the mosh-pit that was the Cheval Blanc segment of the table. The wine had class, lovely polish and one hell of a price tag. Had I tasted it first, the mighty Cheval just might have won me over, but it was a day late and a dollar short (or perhaps I was the one that was the dollar short of affording it?!). Angelus stole the show and stole my heart for claret, which validated my journey. Could it be that with wine, just as in life's relationships, we never forget our first love? That, my friends, I why 'I just dig it.'

Before I articulate my impressions on the vintages, I'd like to give a brief, non-visceral, synopsis of the Chateau. While the wines of the 1960's and 1970's had never achieved any semblance of critical acclaim, Angelus has undergone a qualitative renaissance since the mid 1980's. Hubert de Bouard de Laforest hired renown consulting enologist Michel Rolland and dramatically changed the state of affairs for the Chateau's wines. Late harvesting, selection tables, lower yields, Burgundian inspired wine-making practices and a boatload of new French Oak barrels turned the Angelus fortune around. The results have been staggering, as the run of excellent vintages has clearly demonstrated. The estate was elevated to Premier Grand Cru Classe status in the reclassification of St. Emilion in 1996.

There is roughly 60 acres of land planted to vines for Angelus, w/ 50% of the acreage being composed of Merlot, 47% to Cabernet Franc and 3% to Cabernet Sauvignon. The vineyards are planted on slopes of the Mazerat Valley in St. Emilion and are graced by a southern exposure. The soils are predominantly composed of clay, loam and sand, which suit the chosen grape varieties quite well. Close to 7,000 cases of the Angelus are produced in an abundant year, while a second wine called Carillon de l'Angelus has been created to ensure the integrity of the grand vin.

Most of the vintages selected for the vertical flight were watershed years, with the exceptions being 1996, 2001 and 2003 (too variable on the Right Bank to be considered exemplary). The wines were served in the order of oldest to youngest, with the 1989 coming from two half bottles instead of one 750 ml bottle (which may have expedited the aging process a bit).

1990 Bollinger RD
We served this vintage bubbly to catalyze the evening, and this 17 year old Champagne suited our desires perfectly. A very precise, linear bead of pearls gave way to notes of multigrain bread and glazed pears in the nose. The attack of the wine was explosive, erupting with a doughy, hazelnut infused body that became increasingly racy on the bone-dry, sour apple skin inflected finish. Plenty of purity and extremely classy. 93 points.

1989 Angelus
Wows across the room for this stunner as it seemed to bring the best of both worlds to the table. A scintillating array of graphite, sweet loam, freshly cut lilacs, raspberry and mushroom greets the taster's nose in such delight that you just can't help but smile. There was a wondrous lift to the palate, keeping the bittersweet cocoa, plum sauce and tapenade flavors fresh and perfumed. A beautifully constructed wine, which encapsulated with a marriage of flawless texture and lush fruit on the lingering finish. 96 points

1990 Angelus
A 180 degree spin from the 1989 as this effort was much more masculine, extracted and youthful than its femininely shaped, older sibling. Roasted notes (which seem to characterize the vintage) of grilled meats, smoky blueberries, boysenberry, spicebox and melted licorice became noticeably more seductive and delineated as the wine sat in the glass. An endow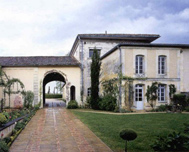 ed effort of strength and concentration that flexes its sinew and opulence throughout the palate like a competitive bodybuilder in Venice Beach. The only detracting characteristic of this wine was that it lacked the length necessary to make it a world class effort. This backward Angelus will undoubtedly reward w/ additional cellaring, 94+ points.

1995
Which three letter acronym trumps any and every corporate abbreviation in its evil sense of wickedness?
TCA.

1996
A fine effort from less than desirable vintage conditions in the Right Bank, this wine is already creeping into an early maturity. Notes of truffles, cedar, meat and a higher toned sense of fruit (red spectrum, strawberries and framboise) rise from the glass. A linear, crisp, medium bodied effort that kicks off a bit of heat from its compact frame. Not otherworldly but a praiseworthy Angelus given the lack of cooperation that Mother Nature provided in 1996. 92 points.

1998
I have consistently adored this wine and found it to be one of the most compelling examples of wine produced east of the Gironde in 1998. A brooding, penetrating nose of dark plums, hickory smoke, crème de cassis, licorice and dark chocolate bombard the senses. Dense as a brick in the mouth and nearly impenetrable, but masterfully rich and so decadent in form as it only hints at what bounty is to come with further cellaring. A glorious wine indeed, 97 points.

2000
My shocker of the evening, hands down! A super saturated example of Bordeaux, exhibiting an inky, purple color I only tend to find in the most endowed Malbecs from Mendoza. A flame of espresso roast, caramel, plum liqueur, bittersweet chocolate, and freshly paved road tar encapsulate a seductive core of juicy boysenberry fruit. Spectacularly rich layers of deep, powerful fruit steamroll the palate but maintain a sense of grace and charm that the 1990 was lacking that evening. A dramatic wine, which flaunts a sense of symmetry and length that only the finest Bordeaux aspire to achieve. A tribute to modern winemaking, 99 points.

2001
While this is obviously a product of a lesser vintage (with regards to ripeness), what began as sultry and subtle in the nose became less and less interesting with time in the glass. Notes of tilled soil, tea, Autumnal brush, berries and cocoa present themselves aromatically, but then dissipate in the body of the mouth. The palate is bland and almost feeble, lacking any sense of punctuation or follow through to the finish. I was extremely disappointed with this showing, considering that I'd peg it as a very good 15-20 dollar Fronsac if I tasted it blind. 87 points.

2003
Such an irregular vintage tends to create eccentric results. Freakishly great, appallingly poor, or in this case, unpredictably closed? I'd tasted this several times and this was by far the poorest showing, exhibiting aromatics that were entirely dominated by coffee (which wouldn't be all that terrible if I were an early wine drinker that liked his Merlot w/ eggs). While it was difficult to coax any fruit away from the taut shell, additional notes of smoke, blackberry jam and vanilla bean began to emerge. The texture was still generous and tannins were noticeably plush, but the unyielding nature of this wine made it difficult to evaluate. 92+, be careful which 2003's you play with as you don't know what you are going to get!

The restaurant where the wines were tasted, Picholine, fashioned such an impeccable menu that it warrants repeating:
Squash Gnoccchi with wild mushrooms, biscotti crumbs and sage.

Skate "Choucroute Garni" with rutabaga, suerkraut, mustard and beurre rouge

Duck Risotto with wild mushrooms

Reg-Legged Partridge with kabacha squash, sprouts and poivrade sauce

Millbrook venison with spiced pain perdu, cranberry and ginger

"The Cheese Plate"

Warm Caramel Apple Brioche with apple salad and salted caramel ice cream
Special thanks to Dan Tisch for putting this all together, bravo!