A contrast in style from two great winemakers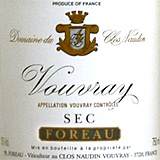 It doesn't get much better for Chenin Blanc than Huet or Foreau, and juxtaposing a sec and demi-sec from these two masters of their craft is quite a jolt to the system to the Chenin uninitiated. The beauty of it all is that the price of admission for top Loire is hardly a luxury-based proposition. While the real virtues of Chenin lie in its longevity (Huet would probably bar me from buying his wines if he knew I killed any of his babies before the age of ten), I'm known to experiment w/ wines in their infancy from time to time ;)
A technical adjustment in labeling from Champagne to Chenin is that Sec and Demi-Sec indicate dry to off dry in the Loire as opposed to very sweet to semi-sweet for bubbles (the A.O.C. doesn't exactly standardize for simplicity). The
'04 Foreau Vouvray Sec
is a bone dry, bracing expression of Loire Chenin Blanc. The nose had a tinge of spring flowers and crushed almonds. The entry is electric, enveloping the mouth in a sandstone-like grip, drenched in minerality and spiced green fruits. The finish reminds me of a biting, Sauvignon Blanc-like flavor, cackling away on a herb-inflicted, citric not
e.
The
'02 Huet Demi-Sec Let Mont
visually is a darker, more golden colored wine, with a frank sense of richness that jets through the wine's aromas. The scents of marmalade, marzipan and honeysuckle turn creamy and driven in the palate. The flavors are fascinating; while thick and intense, there's a spicy, pleasant bitterness that comes through in the form of persimmon and quince fruit, shading this demi-sec w/ a real edge. While texturally this is a stark contrast to Foreau's sec, it shares the imbedded chalky spine and spicy, floral characteristics that always seem to come through in good Vouvray.
The Huet calls for richer fare (cream sauce-based dishes come to mind) and will really benefit from extended cellaring, while the Foreau is drinkable now, yet has the skeleton to last close to another decade. Each are excellent, yet distinct glimpses into the complexities of fine Chenin Blanc from the Loire Valley. If you've never tasted one, there's no better place to start than from one of these stalwarts of the Vouvray appellation. Fine wine doesn't get much more recession proof than this.
Foreau Vouvray Sec '04 89 points
Huet Demi-Sec Le Mont '02 92+ points