Cotes du Rhone, an Afterward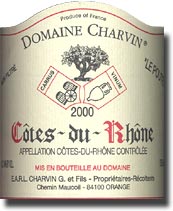 The Charvin '05 is a stark contrast relative to the Vieille Julienne in terms of style (ah-hem, the thrust of the post!), dancing on the eathier elements of the spectrum w/ notes of leather, braised chestnut, fried sausage, earth, cigar ash, red currant paste and hints of rosemary. The attack harnesses a chunky, bracing texture, that becomes more suave & approachable as it builds in the palate. While crammed w/ vigorous, youthful tannin, the wine should flesh out a bit more after a couple years of cellaring & really stretch its legs over the following 5 years or so, 87+ points.
Although the vineyards are close by (and the overall quality is high at both sites), Charvin's upbringing involves 100 percent of the stems & coupled w/ the density & structure of '05 (vs. the Vieille Julienne in '04, a more precocious, forward year), the wines couldn't be more different.