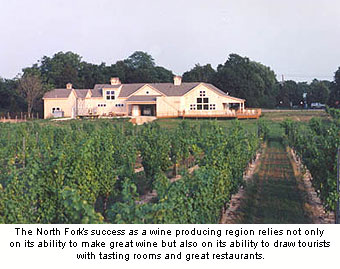 Paumanok does it again!

Wow what a performance they put together in 2004 w/ their Grand Vintage Cabernet Franc! One of the most dramatic domestic examples I've ever had of the varietal (one thing the Jamesport area of Long Island can do is furnish exemplary quality fruit when sacrifice, prime viticulture and do-diligence is put to the test). Gorgeously Bordeaux-esque in it's perfume of graphite, black currant, tapenade and red licorice. There is a racy mouthfull of red cherry, radish, and macerated red plumbs that extends into a lovely echo of the redfruit spectrum. Crisp acid and sound palate depth personify a pure expression of ripe, pit-fruit driven Cab Franc. Bringing the good name back to Cabernet Sauvignon's red headed-step parent....

Sometimes our much maligned fathers will still hold the throne at the dinner table, and Paumanok knows how to dish up the main course! 91 points....Theirry Germain would be proud!