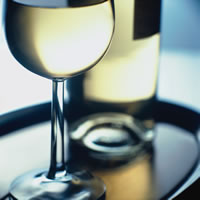 Who wants Italian Chardonnay?

Not me. Although Italy's staple grapes all seem to be red, the country is loaded w/ diversity from a different color. There are literally hundreds of white grapes that have their origins traced back to the old country, many of which you probably haven't even heard of. Exotic names like Garganega, Fiano and Vermentino have yet to enter most wine consumer's lexicons, but I believe they should. One of the beauties of wine is the ultimate sense of discovery and exploration, and the vast array of white wines from Italy not only offer a glimpse into the country's heritage, but also provide a true window into the simple pleasures of their culture.
I can't help but recall a moment in the film 'Mondovino,' when a blatantly foolish tour guide of the Robert Mondavi winery tried to encourage the patrons to 'envision an ancient Tuscan villa' while they sipped away on some innocuous chardonnay blend from the valley floor. Now I have a fairly vivid imagination, but why would I be compelled to see such a sight from a run of the mill bottle of butter and oak? Well, I guess I'll suspend my disbelief when I realize a cheap and fundamentally simple glass of chard can sometimes be a decent ticket to la-la land.
I think I have a better idea, and no, it won't cause you to break the bank. There is a sea of inexpensive, top flight bottles of white Italian wine that make that mental excursion to Sicily much more feasible. I'm going to offer a quick 'how to' series of regional recommendations that will hopefully bring you a glimpse of what Italy's diversity is all about.
While some of these indigenous varietals may be a bit intimidating at first, their delicate aromas and delicious tastes will be well worth the journey.
Campania, in the southeastern region of Italy, offers a trio of varietals that are certainly worth more consumer attention. Falanghina, with its firm citrus backbone and dried pineapple notes is a versatile grape that is slowly gaining critical acclaim. Fiano di Avellino and Greco di Tufo (the names of the grape and sub region of Campania) have pronounced rich textures of honey, passion fruit and a racy frame that pairs wonderfully w/ sweetly seasoned fish. Producers of note to shop for include;
Feudi di San Gregorio
,
Terredora
and
Mastroberardino
. Check out the most recent vintages available as the wines, and most Italian whites for that matter, are best consumed in their youth.
Vermentino, a Sardinian varietal that has recently caught my eye, has to be one of the most under priced gems the island has to offer. My favorite, the 2005
Argiolas
Costamolino, flirts w/ exotic notes that bring shades of what Viognier can do in the Rhone, while maintaining it's sturdy sense of 'Italian-ness' (and a price tag under 10 bucks).
Antinori's
rendition of Vermentino from Bolgheri, called Guado al Tasso, is also outstanding and can act as a perfect foil to a pair of diver sea scallops.
If you are in the mood for shellfish (and are interested in an alternative to Sauvignon Blanc), a Tuscan white called Vernaccia di San Gimignano could be just your ticket. Tree fruits, fresh pears and a zingy splash of lemon rind will leave your palate thirsting for more. Riccardo Falchini and
Melini
are excellent producers of Vernaccia that also offer attractive prices.
Another lovely white can be found just southeast of Tuscany, called Trebbiano d'Abruzzo. Prime examples of this varietal exhibit fresh flowers, soft spice and a cleansing minerality that pair beautifully w/ salted cod, or as an aperitif.
Marramiero
and Caldora have recently crafted excellent Trebbiano bottlings that you should seek out.
Piedmont, an appellation tucked away in the northwest corridor of Italy, is almost exclusively known for its powerhouse Barolo and Barbaresco's made from Nebbiolo, the king of Italy's red wine grapes. Although Piedmont's whites are not nearly as stately as its well known reds, there are definitely some excellent bottles of Blanco that curious consumers should check out. Gavi, a wine made from 100% Cortese grapes, calls Piedmont home and has a somewhat polar reputation. Perceived as either an uninspiring quaff or a delicious treat,
Michele Chiarlo
and Villa Sparina craft some of the richest, most plush examples of how generous Gavi can be. Bring on the primi piatti!
Veneto, with its cool climate and proximity to Austria, is arguably the most famous of white wine growing regions in Italy. My guess is that most of the notoriety comes from the ubiquitous plantings of Pinot Grigio (which, by the way, is not a native Italian varietal), the pleasurable sipper that Americans swirl down like Pepsi. Although there are some fascinating producers of Pinot Grigio (no, not Santa Margherita), I think you'll find the whites of Soave Classico much more generous. Soave is generally made w/ at least 75% Garganega, with the remainder of the blend varying from Trebbiano, Malvasia, Pinot Bianco and other local varieties. The finest glasses of Soave Classico (and Soave Superiore) that I've had were truly spectacular. The balance between notes of rich cream and honeysuckle laden pie crust with a bracingly fresh undercurrent of acid (thanks to those cool nights up in Veneto) was really astounding. There are plenty of industrialized forms of bland, Bolla-infused plonk, so stick to names like;
Inama
, Anselmi,
Pieropan
, Gini and
Ca'Rugate
.
Soave can also be made into a dessert style wine referred to as Recioto di Soave. The process involves drying the grapes on wicker racks, concentrating the sugars and creating an intensely sweet, unctuous version of Soave for after dinner.
Values and diversity abound for any consumer that thrives on taking the road less traveled. Not only are these Italian whites delicious on their own, they are perfectly engineered for food companionship w/ their low alcohol levels and thirst quenching acids. Even though these concepts are relatively tame in 'the new world,' I believe that wines of this pedigree bring together the best of the old and the new. Perhaps the Italians can send an olive branch of peace towards the Americans by dumb-ing down the labels a bit, seeing that we don't have the time or patience to decipher the 'D.O.C. code.' On the other hand, if Prosecco and Pinot Grigio can be en vogue, why not give Falanghina a shot?
I strongly encourage you to be adventurous, challenge any preconceived notions and seek out these unheralded gems (before they gain cache and rise in price). Worse case scenario, your out 15 bucks and can always opt for some Italian Chardonnay. Like the tour guide in Mondovino said, 'just imagine yourself in Tuscany.'